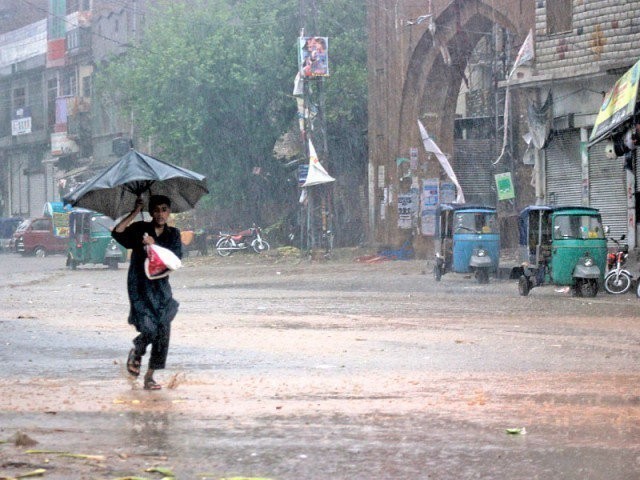 ---
PESHAWAR:



Provincial Disaster Management Authority (PDMA) issued a high alert to district administrations after it received warnings of heavy rain in Khyber-Pakhtunkhwa from Pakistan Meteorological Department (PMD). The department has predicted severe weather anomalies triggered by climate change for spring and (early) summer.




PDMA has informed deputy commissioners of all districts across the province about unpredictable weather conditions so they can deal with any emergencies.

Fatal downpour : Merciless rain in K-P leaves death in its wake



The weather conditions are likely to persist until June.

As per a weather report, frequent spells of rain are expected in March and April and isolated hailstorms may hamper the wheat harvest. On the other hand, May and the beginning of June are expected to remain warm and dry.

The report also states the melting of glaciers is likely to produce more Glacial Lake Outburst Floods (GLOF) events in summer in Chitral and Gilgit-Baltistan. These had catastrophic effects in the region last year.

According to the report, the latter half of June is likely to remain warm and will mark the start of monsoon showers.

"El Nino is expected to reach a neutral phase during the monsoon season," the report stated.

It has requested all stakeholders to expedite work on establishing a contingency plans for monsoon and submit their drafts by March 25.

A copy of documents available with The Express Tribune states contingency plans have invariably improved the level of preparation of the stakeholders. They have been asked to remain vigilant as inclement weather conditions are likely to cause loss of life and damage to property.

It's raining cats and dogs in Dubai and no one can handle it

PDMA Spokesperson Latifur Rehman told The Express Tribune PMD had issued a weather report that forecasted heavy rainfall across the province until March 14.

"We have issued high alerts to the DCs of all districts to remain vigilant and prepared to cope with any emergency situation," he said.

When contacted, officials of PMD's Peshawar chapter offered a different opinion on the change in weather.

"In March and April, more rain is expected," an official of the department told The Express Tribune. "However, the heat wave spell that is expected is routine so [there is] no need to panic. There is no need to spread alarm because it is too early to predict what exactly will happen."

He added, "The forecasts issued by our department are based on computer models and you can't say whether it will exactly happen."

According to the official, rains expected to start in parts of the province from Wednesday night will intensify on Saturday and Sunday and affect all districts.

Published in The Express Tribune, March 10th, 2016.
COMMENTS
Comments are moderated and generally will be posted if they are on-topic and not abusive.
For more information, please see our Comments FAQ