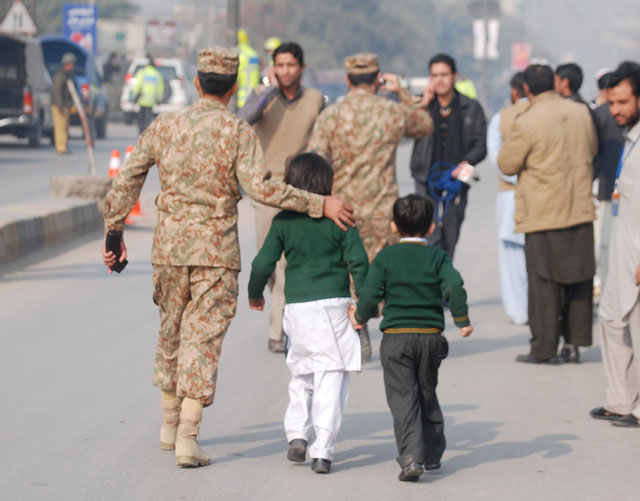 ---
PESHAWAR: Parents and social activists filed an application at Peshawar High Court on Tuesday, asking to be made party to an earlier petition which requested the Army Public School massacre enquiry report be made public.

They demanded to be made privy to whether any responsibility has been affixed and if the culprits had been punished.

The application was filed by 26 mothers and 16 social activists through their counsel Ajun Khan, the father of APS martyr Asfand Khan.

Military courts: SC summons trial record of four death-row convicts

Ajun had filed a petition on March 3 which asked the court to direct the government to elaborate on steps taken for security of the institute after intelligence reports of a possible attack. The petition named the provincial government, FATA additional chief secretary, K-P IGP, National Counter Terrorism Authority and interior secretary as the respondents.

The petition asked authorities to define action taken against authorities responsible for security of the school and questioned why parents were not taken into confidence on the reports.

Ajun claimed the National Counter-Terrorism authority shared intelligence with the K-P government on August 28, 2014 about threats from the Taliban. The information suggested the banned group planned on carrying out attacks on educational institutions; especially those run by the Pakistan Army, to avenge the death of fallen militants.

His petition said no steps were taken to improve security of schools despite the intelligence intercepts and authorities should explain if this was criminal negligence or a conspiracy to let it happen.

"Why did the administration not [strengthen] the walls of APS to thwart the attempt? Who were the officials [who did not fulfil] their responsibility and what action has been taken to fix responsibility for this criminal negligence?" the petition asked. The petitioner sought answers for why sensitive information was ignored which ultimately resulted in the tragic loss of over 140 lives.

Ajun stated he had taken these questions to the president of Pakistan, Defence Committee Chairman Mushahid Hussain Syed and Chief Minister Pervez Khattak, but they all failed to provide answers. He said all of them were avoiding these questions.

Mothers unite

Mothers of APS victims and civil society members gathered at the Shuhada-e-APS Memorial Library Hall in the city on Tuesday to discuss the process of becoming part of the petition.

Around 15 social activists including Rukshanda Naz, Jameela Gilani, Shabeena Ayaz, Shahida Shah and Nusrat Ara were at the meeting.

Ayaz, who is from Aurat Foundation, told The Express Tribune those slain were the children of the nation and if an independent enquiry was not conducted, more such innocents would fall prey to terrorism.

"It is Women's Day, so women are going to court. On Father's Day, we will ask fathers to do the same," she added.

Published in The Express Tribune, March 9th, 2016.
COMMENTS
Comments are moderated and generally will be posted if they are on-topic and not abusive.
For more information, please see our Comments FAQ