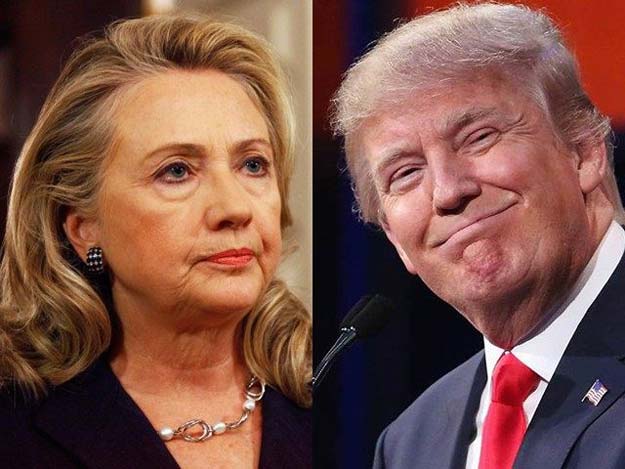 ---
WASHINGTON: Donald Trump and Hillary Clinton remained the frontrunners in the 2016 quest for the White House, but Senators Ted Cruz and Bernie Sanders scored key victories in the latest contests.

Republican Trump and Democrat Clinton both won in the delegate-rich state of Louisiana on Saturday, keeping them on top at a critical point in the US presidential race.

Results from votes in five states were split, but one element was clear: Republican Cruz boosted his claim as the most viable alternative to billionaire Trump after taking Kansas and Maine and put poorly performing Senator Marco Rubio under immense pressure to turn his campaign around or bow out.

US should remain in Afghanistan to protect Pakistan's nuclear arms, says Trump

And two Sanders victories showed that the self-described Democratic Socialist can stay in the race despite the long odds of defeating Clinton.

Cruz and Sanders can also claim momentum as they head toward critical races in Michigan next Tuesday, and then winner-take-all races in the large states of Florida and Ohio on March 15.

"Thank you to Louisiana, and thank you to Kentucky," Trump said in Florida, minutes after he won in Kentucky, where he led Cruz by four percentage points.

The races were the first test of whether the Republican establishment's desperate effort to halt Trump, led this week by 2012 nominee Mitt Romney, is having any effect.

Trump declared those efforts a failure, and called on Rubio, once seen as the best hope to defeat him, to quit.

"Marco Rubio had a very, very bad night. Personally I'd call for him to drop out of the race," Trump said.

"I would love to be able to take on Ted one on one," he added. "That will be easy."

Trump is well ahead in the all-important delegate count for Republicans, having now won 12 of the 19 states that have voted up to now.

But the strong showing by Cruz -- who won more delegates than Trump on Saturday -- indicates that the brash real estate mogul is not the inevitable nominee.

The arch-conservative Texas senator performed beyond expectations in Kansas, where he earned 48.2 percent support, doubling up on Trump who received 23.3 percent.

Rubio was third at 16.7, followed by Ohio Governor John Kasich with 10.7 percent.

Trump poses threat to peace and prosperity: German vice chancellor

In Maine, it was a startling 13-point win for Cruz in the more moderate New England region.

Centrist candidate Romney won Maine caucuses twice, in 2012 and 2008, but it was a disaster for the current establishment favorite Rubio, who finished fourth.

Cruz exulted in his victories during a campaign rally in Idaho, which did not vote on Saturday.

"The scream you hear -- the howl that comes from Washington, DC -- is utter terror at what we the people are doing together," he said, adding that conservatives are "coming together... and standing as one behind this campaign."

The Republican race has been winnowed to four men: political outsiders Trump and Cruz, and more mainstream candidates Rubio and Kasich. Many in the Republican establishment are apoplectic over Trump's frontrunner status.

Among Democrats, Sanders savored victories in Kansas and Nebraska, pushing his total to seven victories in 18 contests.

"We've got the momentum, the energy and the excitement that will take us all the way to the Democratic National Convention in Philadelphia," Sanders said in a statement.

But Clinton decisively swept Louisiana, the weekend's big prize, with 59 Democratic delegates at stake compared to 37 for Kansas and 25 for Nebraska.

The former secretary of state dominated in Louisiana, a state with a substantial African-American vote.

Sanders did well in the other two states in part because of their substantial white populations, a demographic with which he does well.

Maine, also overwhelmingly white, holds its Democratic caucus Sunday.

Battle of the bullies: It's Ayesha Sana vs Donald Trump

Trump made waves when he cancelled a scheduled Saturday appearance at the Conservative Political Action Conference near Washington, opting instead to hold a rally in Wichita, Kansas.

Trump told the Wichita crowd that Romney, who on Thursday called Trump "a fraud," was a "loser" who should have defeated President Barack Obama.

"It's the establishment. The establishment is against us," Trump said.

Rubio issued a forceful repudiation of the frontrunner, bringing the house down at CPAC when he warned about a dire future for Republicans "if the conservative movement is hijacked by someone that's not a conservative."

There is a chance that no candidate will rack up the 1,237 delegates needed to secure the nomination before the Republican convention in July.

That would mean a contested or "brokered" convention, a scenario that could turn chaotic, especially if establishment figures seek to actively prevent delegates from coalescing around Trump.

Including delegate results after final results Saturday, Trump leads the Republican field with 378 delegates, followed by Cruz with 295, Rubio with 123 and Kasich 34.
COMMENTS (1)
Comments are moderated and generally will be posted if they are on-topic and not abusive.
For more information, please see our Comments FAQ