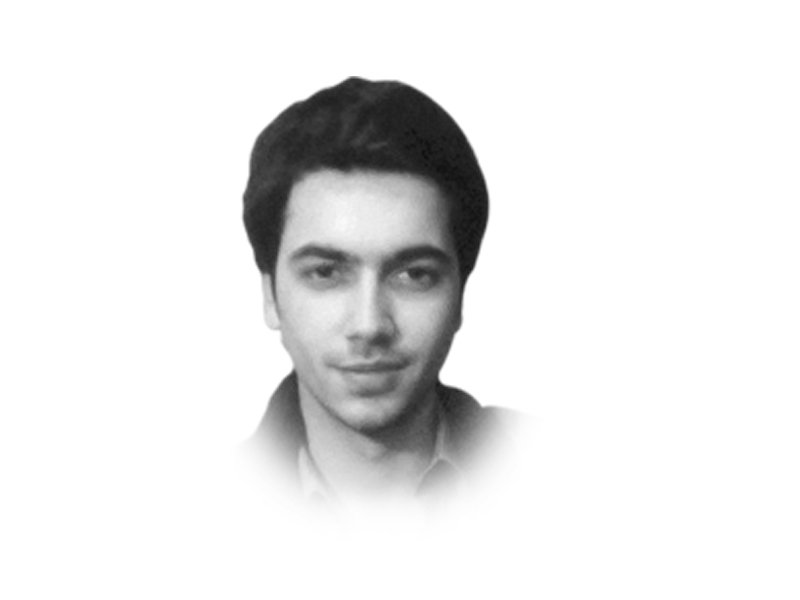 ---
With the law about to pass, the MP from Dera Ismail Khan took to the stage — and what a voice he had. The bill, Maulana Fazl-ur-Rehman said, was meant to appease America. The bill, he said, didn't address other issues in the country.

There's usually a checklist to this sort of thing: pass a pro-women bill, and watch the religious right tick all the boxes. Uncle Sam at it again — check. Rape can wait it out — check. Our culture implicitly involves thrashing ladies — check. Pretty mild business so far, but then josh-e-khitabat took hold.

"This bill," Maulana sahib reportedly said, "will turn Pakistan into a free sex zone." That's another thing about the Human Rights Laws Spoiler Checklist: as these bills near passage, things escalate quickly. And that's held true since 2006. Because Maulana Fazl was speaking a decade ago: General Musharraf's Women's Protection Bill was on the cards, and the religious right was punching the walls in. Another MMA lawmaker (how glorious it is to speak of the MMA as purely in the past like the floppy disc) also joined in. In words better suited to white evangelicals, she reportedly said '"he bill would […promote] the sex workers' industry."

Tangerine turbans off and legal caps on now, the bill from '06 actually focused on curbing the worst excesses of the Hudood laws, i.e., making it nigh impossible to prove rape, but far easier to go to jail for adultery. And if the Hudood Ordinances could be boiled down to one stat, it would be the National Commission on Status of Women estimating that 80 per cent of all women were jailed because they had failed to prove rape (and thus convicted of adultery).

The Women's Protection Bill was meant to dab at this sick state of affairs. And as we turn, ten years later, to another protection bill in Punjab, let's look in the rearview mirror again.

The fears never materialised. But other things continue to go very, very wrong, just not the ones we like talking about: this country remains a terrible place for its women and children. According to Aurat Foundation, 7,010 cases of violence against women were reported in Punjab in 2014, with rape and gang rape at 1,408. Honour killings came to around 340 cases, the highest in the country.

And domestic violence, left to lazy lawmakers, has gone on apace. That changes with the Punjab Protection of Women against Violence Act, 2016 — it provides for a district protection committee, 24-hour Violence against Women Centres, and widely defines violence against women: including sexual violence, stalking, and economic and psychological abuse. For a Punjab as unequal as ours, some say this is historic.

It probably isn't. As scholar Abira Ashfaq put in another paper, the law isn't cause for celebration: plenty of gaps need plugging — from the shoddy state of our shelters to the dangers of signing off on yet more committees, many that never see the light of day.

Even taken by itself, the bill doesn't exactly criminalise the offence of 'domestic violence' either, instead tucking various parts of it under the PPC, and prescribing punishment accordingly. This makes little sense: if punishment is already prescribed in other parts, there's no need for the bill. And if there's need for the bill, there's need to create an offence of domestic violence to punish it better.

Because the whole reason we're having this discussion is that the police turn away abused women, PPC or no, because it's a gharelu matter. It's to the credit of PPP's Faiza Malik, and before her, Yasmeen Rehman, that their ideas went further.

But what we're left with is a hotchpotch of laws. Among the many pluses of the Eighteenth Amendment, a sure failing was devolving human rights to the provinces: we now have three different acts — in order of comprehensiveness — in Sindh, Balochistan and Punjab.

And though the Sindh Assembly's certainly led the way, it's depressing to see just how few cases have been instituted under its new act. We end up circling round to the same thing: the major issue facing our justice system isn't a lack of laws; it's a lack of implementation.

Coupled with the other noise: the PML-N wanting a soft image without making hard choices, the PTI's consistent indifference to women's legislation, and the religious right screaming the path to progress slows to a crawl.

But small steps go far, and Sharmeen Obaid-Chinoy's winning a second Oscar for a burning social issue, is no one's idea of a small step. Shedding light on honour killing — a nauseating euphemism for what's really our deepest shame — A Girl in the River may even spark fresh legislation. And that's filmmaking at its highest: not bringing home the gold, but making a better place home.

Let us remember here Justice Jillani who wrote, while upholding an honour killing conviction, "Is it an inexorable element of fate that women should continue to be the victims of rage when it comes to the exercise of those fundamental rights which are recognised both in law and religion? NAY!"

In a place as dangerous as this, one only hopes more people stand up: lawmakers and judges, filmmakers and activists, with 'nays' as loud and clear. Because ten years of his warning, Maulana Fazl returned to it. "They are enforcing laws of the Western society in our society." Uncle Sam at it again — check. "We are not against women's rights but this new law will lead to break-ups of homes and make men feel insecure." Protecting the family equals an assault on the family — check. "After the passage of this bill I feel pity for the husbands." This law emasculates our manhood — check.

Maulana sahib is right to feel pity. As the Hon'ble MP from Dera Ismail Khan, he watches over a female literacy rate of 18 per cent, with girls' enrollment — even per government figures — at 5.88 per cent. A solid vote-getter, the gentleman was previously Hon'ble MP for Bannu, where the female literacy rate is 7 per cent (according to Khwendo Kor in 2009), and girls' enrolment 1.07 per cent. Yes, 1.07 percent.

Indeed, sir, there are many things to pity husbands for. And a number like that sears the eyes forever.

Published in The Express Tribune, March 1st, 2016.

Like Opinion & Editorial on Facebook, follow @ETOpEd on Twitter to receive all updates on all our daily pieces.
COMMENTS (4)
Comments are moderated and generally will be posted if they are on-topic and not abusive.
For more information, please see our Comments FAQ