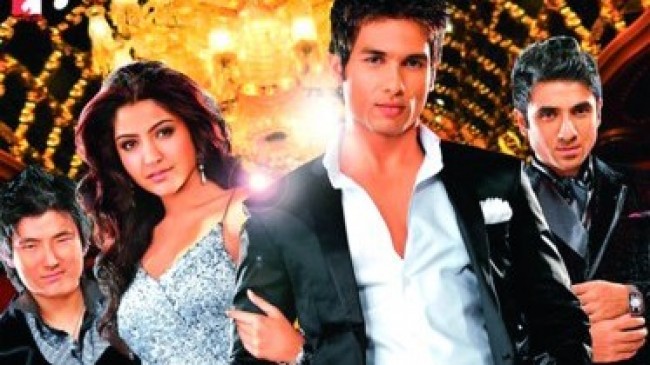 ---
MUMBAI: His angelic smile was replaced by a snarl and his college boy image took a beating when he did Vishal Bhardwaj's edgy thriller Kaminey last year, but Shahid Kapoor is not too bothered. All the accolades seem to have made up for it.

After a couple of disappointments at the box-office, the 29-year-old is back with yet another caper film - Badmaash Company. Kapoor spoke to the Reuters news agency about the film, how the last year has been for him and about starting to work on his most important project yet.

Q: In your latest film, you are once again working with a first-time director?

Is that an advantage or a disadvantage? A: Sometimes it is a disadvantage and sometimes not but I would not want to discriminate against someone because they were a first-time director. There are many directors who found their success after one or two films, like Imtiaz (Ali) for instance. I want to work with directors who inspire me and there are many I want to work with, after having seen their work. But at the same time, I wouldn't want to deny a director getting a break by saying no to his film.

Q: It has been almost a year since Kaminey. How would you assess the year gone by?

A: After Kaminey did well, a couple of my films haven't done well, and now there is this film, which a lot of people are saying is very important to my career. I think every film I do is important to my career, but I am really happy with the way this one has turned out. It is one of the most exciting scripts I have come across and now I am getting ready to shoot the most significant film of my career, which is my father's film Mausam. I am looking forward to what this year has for me.

Q: Does it bother you when people write you off because you have had a couple of flops?

A: I have done 17 films in my career and every year something like this gets written about me. You get used to it. It is very important to recognise what you have done wrong and work harder. I think I have had a great two-three years - there have been two or three very significant films which have come out, which happens very rarely. I feel very privileged to have had that.

I am 29 right now and I feel that I am just starting out in the main phase of my career, so I don't take it very seriously. In the same way, when a film is very successful, I don't think about it much - I move on, because the only way to survive in this industry is to move forward. If you look back, you will either get carried away by your success or get depressed about your failures.

So the only thing you can work towards is what is already in your hands. Like when I am nearing the end of a film, I always work harder, because I feel that once I am done acting in this, the film is out of my control.

Q: When you first joined the industry, a lot of people said that you were too young to play the lead hero role. Now that you are 29, do you feel that you are ready for those roles now?

A: Honestly, I feel that it has everything to do with success and failure. If you are successful, even your most glaring flaw will be seen as a plus point and when you fail even your best attribute becomes a negative. After all, what is acting? You are representing life. Are you telling me there are no 22-yearolds in the world? If you are 22, do the right roles, do it with the right target audience in mind, people will like your films. You have Zac Efron abroad; he is in his early 20s and is a teen sensation.

If you do something that is unnatural to you, it won't work, but I don't think age is a factor. If Mr (Amitabh) Bachchan at his age can be the huge superstar that he is, I don't think age is an issue at all.

Q: Do you have a lot of friends in the industry?

A: Very few. But I am that kind of a person; I prefer coming home at the end of the day and chilling out, rather than going out and partying. It is not that I don't have close friends but just that I don't party with them publicly.