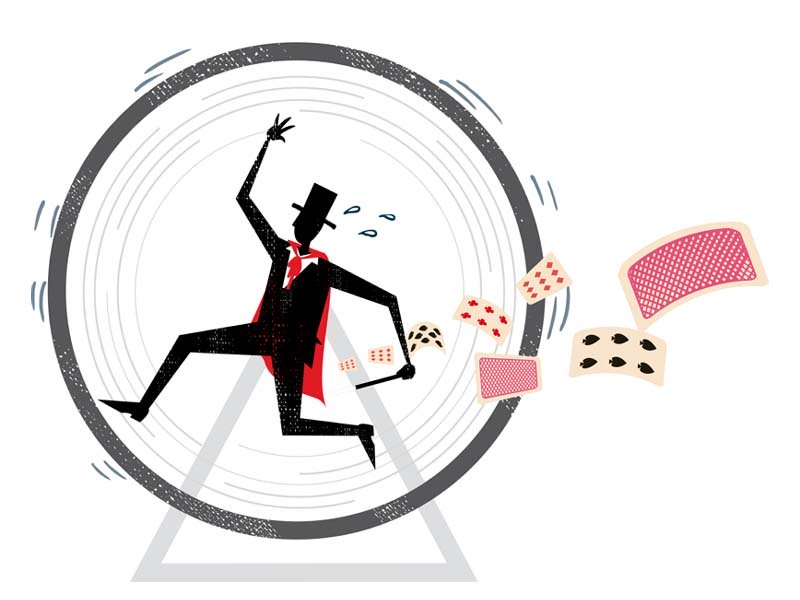 ---
PESHAWAR:



Coins, cards and handkerchiefs are just some of the tricks Iqbal Hussain has up his sleeve. For several decades, the province's most renowned magician has left many a jaw hanging in awe.




As a part of his street magic act, Hussain plays cards and coin tricks and produces birds from handkerchiefs. Unsuspecting onlookers see his simpler tricks as supernatural. However, Hussain managed to bowl over the more cynical kind of audience too – journalists. Hussain, who was at The Express Tribune office, did one magic trick no one likes but sees at every month end when the budget shrinks – he turned one reporter's Rs500 note into Rs50 (and back again).

"A magician is one who makes impossible things happen. That is why we call ourselves magicians," said Hussain, wearing his black jacket which he considers part of the magician's dress code. "It is not really magic, but tricks learned after years of practice." The tricks are all about the element of surprise, the magician added.

He admitted performing live in front of large audiences is daunting but unavoidable as he has to face loads of people when he takes the stage. Hussain said tricks are risky as his performance is live; "It's not like television where editing comes into play". The magician said he is not fond of chemical tricks and prefers props such as playing cards.




One trick wonder?

According to the magician, he has been recognised as a member of the International Brotherhood of Magicians (IBM) and is among 14,000 of the body's members.

International recognition or not, it has been difficult to keep up with the times since he cannot afford the latest equipment used by magicians these days. Hussain cannot perform the same tricks as his counterparts in the west as the latter have equipment he desperately needs to stay current. Some of his tricks are decades old.

Like other artistes, Hussain has asked the K-P government to recognise his services and award him Rs30,000 per month as honoraria. "The price of equipment used in magic is in the millions," Hussain revealed. "Coins, cards, ropes and handkerchiefs only go so far."

He reiterated his tricks were just that – a sleight of hand perfected over the years. But those decades of practice keep going unrewarded as the government refuses to value his services to the craft. Talking to The Express Tribune, he demanded he be considered for the Rs30,000 honoraria.




Not an inherited art

Hussain said there were no magicians in his immediate family, but he was inspired by his uncle who would amuse children with tricks.

His family was strongly opposed to the profession, Hussain added. "They would tell me people would think of me as a madari [performer] not an artist." But not everyone in his family lost faith; his wife has been constant source of support and attends his shows.

The magician shared he learnt the basic tricks from two masters, Muhammad Nafees and Syed Waqar Ahmad, in 1987. Almost thirty years later, Hussain's interest in the art has not wavered.

"This all needs dedication," he said. "Even my own children do not follow my path as it's not only difficult, but there is a lack of appreciation in the country, especially K-P."  Few in the country have the ability to dazzle their audience and Husain's tricks of the trade remain a mystery for all but the brightest. His resources may be limited, but as the old saying goes, the show must go on-especially if it puts food on the table.

Published in The Express Tribune, February 26th, 2016.