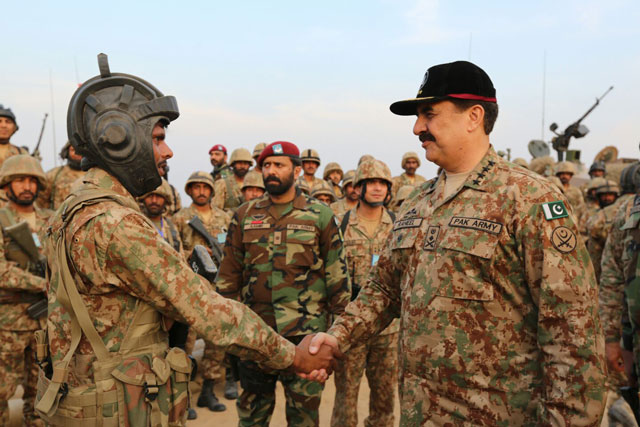 ---
Army chief General Raheel Sharif has said all available means must be utilised to respond to the full spectrum of threats.

According to the ISPR, the COAS arrived in Bahawalpur on a two-day visit to witness exercises by Bahawalpur and Multan formations in the Cholistan desert on Thursday.

He lauded the standards of training and expressed complete satisfaction on the operational preparedness of the troops, saying preparedness in peacetime was a guarantor of peace.

'Last bastion of terrorists being cleared in North Waziristan'

General Raheel also visited the training area near Fort Abbas and Dingarh, and witnessed the testing of Bahawalpur Corps' operational capability to validate the new war fighting concept.

The exercise involved large-scale integrated maneuvers of infantry, mechanised forces, combat aviation and Pakistan Air Force, to ensure complete dominance of the battlefield.

Earlier, he was briefed by a field commander on the objectives of the ongoing exercise.
COMMENTS
Comments are moderated and generally will be posted if they are on-topic and not abusive.
For more information, please see our Comments FAQ