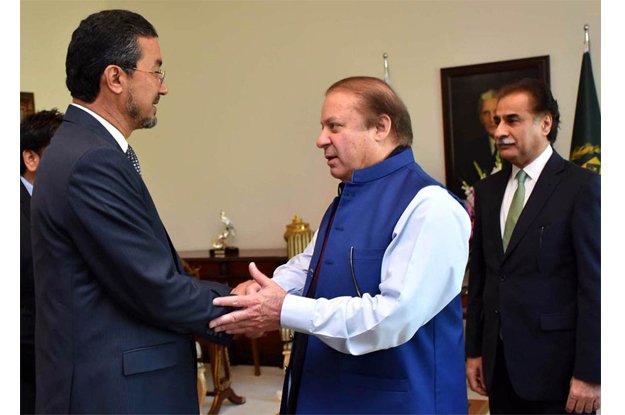 ---
ISLAMABAD:



Hailing the four-state Quadrilateral Coordination Group's (GCG) efforts to resolve the longstanding conflict in Afghanistan through dialogue, Prime Minister Nawaz Sharif has said the decision of talks between Afghan government and Taliban is a positive signal for the peace process.




Following its fourth meeting in Kabul on Tuesday, the QCG – comprising officials from Afghanistan, Pakistan, the United States and China – announced that representatives of the Afghan government and Taliban insurgents would meet in Islamabad by the first week of March for direct talks.

Pakistan to host crucial Afghan peace talks by March




"The GCG has been making good progress in right direction," Nawaz said while talking to Afghan Wolesi Jirga's Speaker Abdul Raouf Ibrahimi, who called on him at the PM House earlier today.

"Pakistan's engagement in sincere and consistent efforts for promoting peace and reconciliation through an Afghan-owned and Afghan-led peace process will bring lasting peace in Afghanistan," he added.

While highlighting Pakistan's vital stake in peace, stability and development in Afghanistan, Nawaz said he had a vision of comprehensive and enduring partnership with Afghanistan that contributes to the security and prosperity 'of our two nations' and reinforces efforts for regional peace and development.

"Pakistan attaches great importance to its brotherly ties with Afghanistan," he said.

Recalling President Ashraf Ghani's visit to Pakistan in December last year, he said Pakistan's focus is on enhancement in mutual trust that paves way for deeper engagement in diverse areas of cooperation, including security and counterterrorism, peace and reconciliation in Afghanistan and trade and economic development to the benefit of both the countries.

Army chief, Qatari leadership discuss Afghan peace process

"Pakistan believes that terrorism is a common enemy and Pakistan and Afghanistan need to work together to rid the two countries of this menace," the premier said.

He emphasised that Afghanistan must have an environment where Afghan migrants return back to their country with respect, honour and dignity on the right time," Nawaz said as he offered help to Afghanistan in its infrastructure development.

Raouf Ibrahimi said Pakistan is the only nation which supported Afghanistan against external aggression in 1979. He said Afghanistan appreciated and applauded the role of Pakistani nation for hosting Afghan migrants for 30 years despite difficulties.

"Pakistan has hosted its Afghan brothers in an affectionate and caring manner. Pakistan is second home for its Afghan brothers and we must remain steadfast friends in every situation," he added.

Indian HC calls on PM

Separately, the prime minister extended a very warm welcome to the newly appointed Indian High Commissioner Gautam Bambawale – who called on him at the PM House on Wednesday – and expressed confidence  he will work to bring the two countries closer.

"Pakistan's policy to pursue good relations with all its neighbours, including India, and mutual cooperation between the two states can lead to numerous benefits in socio-economic uplift of both the countries," he said.

Published in The Express Tribune, February 25th, 2016.
COMMENTS
Comments are moderated and generally will be posted if they are on-topic and not abusive.
For more information, please see our Comments FAQ