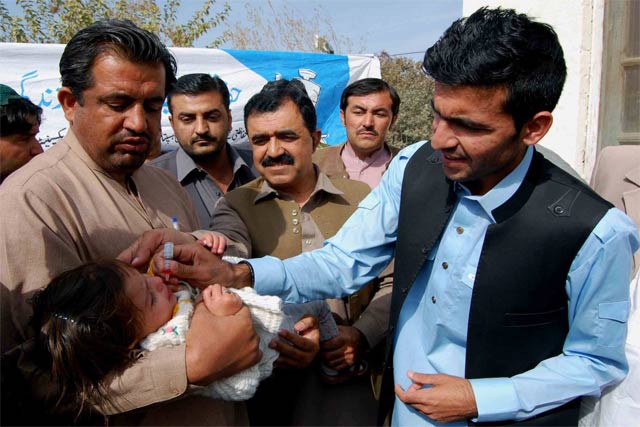 ---
QUETTA: Pakistan football team's former captain Kaleemullah urged tribal leaders and parents on Monday to actively participate in an anti-polio campaign to protect children from the crippling disease.

The football player from Balochistan's Killa Abdullah also known as Pakistan's Messi urged parents to vaccinate their children. Kaleemullah was the first ever Pakistani player who joined the United Soccer League in the United States.

Sewerage sample: Poliovirus detected in Killa Abdullah

"People ask me what it was that brought me to this position. Besides my hard work, I always say that I am thankful to my parents who gave me anti-polio drops," Kaleemullah told The  Express Tribune.

The international player's hometown, Killa Abdullah, is considered one of the global reservoirs of polio virus. Open borders with Afghanistan, a highly dispersed population and a large number of children missed during campaigns, places the district at high risk of polio virus transmission.

In 2014, 52% of the reported cases in Balochistan were from Killa Abdullah.

The district is known for its sports, culture and producing quality sportsmen. Moreover, Chaman is home to the famous football club Afghan FC, which has produced players like Jadeed Khan and Mohammad Essa who have been national captains.

Gunmen kill woman anti-polio volunteer in Afghanistan

Kaleemullah, who will be playing United Soccer League 2016 session in the US, is one of the heroes from the region who is also working on health and education in his area. He also supports polio teams who put their lives at risk every day. "I request everyone to support these hard working anti-polio workers."

The football star also met local polio teams and vaccinated children himself to show complete support towards vaccination and concerns about effects of the virus.

Joining him is an emerging young talent, who is currently playing for  Peshawar Zalmi in Pakistan Super League (PSL), Asghar Khan said the disease can be eradicated "if all children are vaccinated against polio".

"Once vaccinated, the world will be free of this paralytic disease and children from Chaman and across the world will be able to contribute to sports like me," he added.

Kaleemullah also said, "Vaccinate and educate your children so that they can play a positive role in society. Your child's future is in your hands."

Eradicating polio: Iran offers free vaccines to Pakistan, Afghanistan

Afghanistan and Pakistan are the only two countries in the world that remain polio-endemic, according to the World Health Organisation.

Polio attacks the nervous system and can cause irreversible paralysis within hours of infection. But it can be stopped with comprehensive and population-wide vaccination.