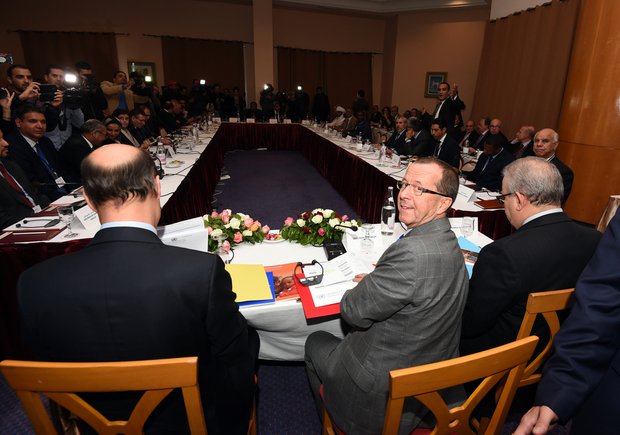 ---
MOROCCO: Libya's UN-backed council announced the formation of a revised national unity government on Sunday, with the internationally-recognised parliament to vote on the line-up early this week.

The council -- tasked with ushering in a peace deal to end years of political turmoil in the North African country -- revised the line-up after parliament rejected a 32-member unity government last month, saying it was too large and setting a 10-day deadline for a smaller cabinet.

"The government has been formed today and sent to the parliament," Fathi el Mejebri, a member of the presidential council, announced Sunday just before the deadline to reach an agreement expired.

"We hope that this will be the beginning of the end of the conflict in Libya," he said from Skhirat, Morocco, where the council has been meeting to try to come up with a government.

Libya has been in chaos since the 2011 ouster of long-time dictator Moamer Kadhafi, with two rival administrations and armed groups fighting for control of the oil-rich country.

A militia alliance including militants overran Tripoli in August 2014, establishing its own government and parliament and causing the recognised administration to flee to the country's remote east.

A member of the internationally recognised parliament told AFP a vote of confidence on the unity government would be held on Monday or Tuesday.

An official statement on the agreement said the government would be composed of 18 ministers and Mahdi al-Barghati would be in charge of the ministry of defence -- a post which had been a major stumbling block in talks.

Barghati is a prominent military figure who is close to Libya's internationally recognised administration.

The UN-backed council that reached the agreement is made up of nine members from Libya's rival factions and headed by prime minister-designate Fayez al-Sarraj.

However, in a sign that divisions remain, two members of the council refused to sign the document agreeing to the formation of the unity government, one of the two told AFP.

"We didn't sign because we don't agree on the government. The way the ministers were nominated is not transparent at all," said the member, who spoke on condition of anonymity.
COMMENTS
Comments are moderated and generally will be posted if they are on-topic and not abusive.
For more information, please see our Comments FAQ