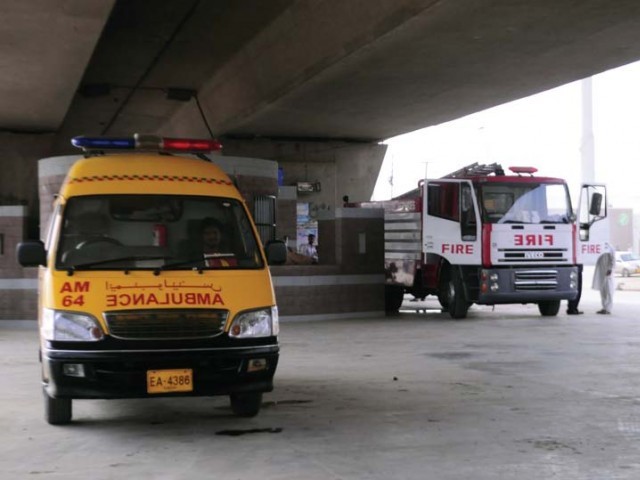 ---
KARACHI:



With the uncontrollable urban sprawl, the metropolis now has flyovers at almost every intersection. The government, however, seems to be confused about how to utilise the empty spaces under the structures and there seems to be no legislation regarding the issue either.




Drug addicts, beggars and makeshift shops have overtaken the empty spaces. Chief Minister Qaim Ali Shah has asked the local government department to make a proposal in consultation with commissioner Asif Hyder Shah on the best way to utilise these spaces and implement the plan after informing the CM Secretariat.

'Cracks' appear on Malir 15 flyover

The project manager of a non-governmental organisation (NGO) Shehri - Citizens for Better Environment, Dr Raza Gardezi, believes there is no law to secure the empty spaces under flyovers. According to him, the flyovers are built over roads and since roads are amenity spaces, they can never be used for commercial purposes. "If you build anything over any park, the park will remain the same," he reasoned. "Its land use cannot be changed."

Speaking on the construction of traffic police sections under most flyovers in the city, he said since the traffic police sections were to facilitate public, there wasn't any legal hitch in building them. However, he said, in order to build a traffic police section, the municipality that has built the flyover has to give proper notice in newspapers.

NED University architecture and planning department chairperson Dr Noman Ahmed said that the construction of a traffic police section under the flyover must be properly approved by the Sindh Building Control Authority. "It should be ensured that the structure that is being built is not hazardous for the flyover," he pointed out, adding that the sections must be well-ventilated. He added that the sewage lines that are usually built with the traffic sections should be properly connected to the underground sewage network.

Space utilisation plan

Talking about the 'space utilisation plan', Ahmed said that it was very important before the construction of any flyover to draft such plans. "Procedures are not followed in Karachi," he said, adding that municipal authorities think about how to utilise empty spaces under flyovers only when they have been constructed.

Closed spaces

Ahmed said that there are closed and dark spaces under flyovers where the sunlight cannot reach, thus, landscaping cannot be done there. For such empty spots, he proposed static activities.

For example, he said, such empty spots could be used for fire stations. He cited the example of the fire station under University Road's flyover in front of Sir Syed University of Engineering and Technology. He said that Karachi's major arteries are devoid of fire stations and using flyovers' space for this purpose could be beneficial.

He also proposed that hawkers in the busy markets could also be brought under these empty spaces in a proper way, so they don't affect traffic and pedestrian movement.

For Gardezi, the best way to utilise these spaces is to develop them into greenbelts. Ahmed said that along with developing such spaces into greenbelts, the dull grey concrete flyovers, on which political slogans are usually inscribed, can be neutralised by the bright colours.

Government's preparation

The commissioner said they have several options on the table, including building emergency kiosks and greenbelts on the empty spaces.

Karsaz Flyover getting a makeover

He said properly equipped ambulances and fire brigades could be placed in those emergency kiosks. However, he failed to give any time frame for the completion of the proposal. "We will carry out work in phases and, initially, we'll remove all sorts of encroachments from under these flyovers," said Shah.

Published in The Express Tribune, February 15th,  2016.
COMMENTS (3)
Comments are moderated and generally will be posted if they are on-topic and not abusive.
For more information, please see our Comments FAQ