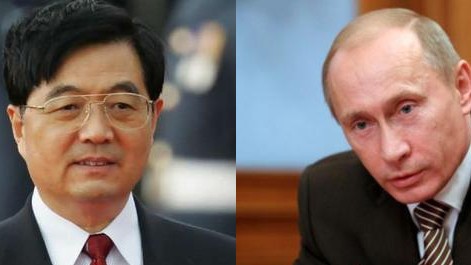 ---
PARIS: Media watchdog Reporters Without Borders named on Monday the world's 40 worst "predators of the press" including politicians, religious leaders and militias to mark World Press Freedom Day.

"They are powerful, dangerous, violent and above the law", the Paris-based watchdog RSF said. "These predators of press freedom have the power to censor, imprison, kidnap, torture and, in the worst cases, murder journalists".

Seventeen presidents and several heads of government are on the list, including China's Hu Jintao, Iran's Mahmoud Ahmadinejad, Rwanda's Paul Kagame, Cuba's Raoul Castro and Russia's Prime Minister Vladimir Putin.

New entrants on the annually-updated list of "predators" include Taliban chief Mullah Omar. The Taliban leader, "whose influence extends to Pakistan as well as Afghanistan, has joined the list because the holy war he is waging is also directed at the press," RSF said.

Mullah Omar's "thugs threaten local reporters who do not relay his propaganda", while around 40 Taliban attacks directly targeted journalists and news media in 2009, it said. Chechnya's pro-Kremlin President Ramzan Kadyrov was also added to the list. Under Kadyrov, the watchdog said "anyone questioning (his) policies... is exposed to deadly reprisals," citing the murders of reporter Anna Politkovskaya and human rights activist Natalia Estemirova. Yemen's President Ali Abdulah Saleh was branded a "predator" after Sanaa set up a special court for press offences in what RSF said was a bid "to limit coverage of dirty wars being waged in the north and south of the country."

Private militias in the Philippines were also added following the massacre of around 50 people, including 30 journalists, by "the local governor's thugs" in Maguindanao province on in November last year. "In Latin America, violence still comes from the same infernal quartet: drug traffickers, the Cuban dictatorship, (Colombian guerrilla group) FARC and paramilitary groups," it said.

Italian organised crime, the Basque separatist group ETA and Somalia's Islamist militias were also listed. Figures whose names have been removed from the "predator" list include Nigeria's State Security Service, which RSF said has "has been reined in." The Nigeria police force, however, "has emerged as the leading source of abuses against the press," it said, with poorly-trained police "encouraged to use violence against journalists." RSF also removed several Iraqi Islamist groups, arguing that while levels of violence remained high, journalists were no longer being singled out. According to an RSF tally, nine journalists have been killed in 2010 and 300 media professionals are in prison.