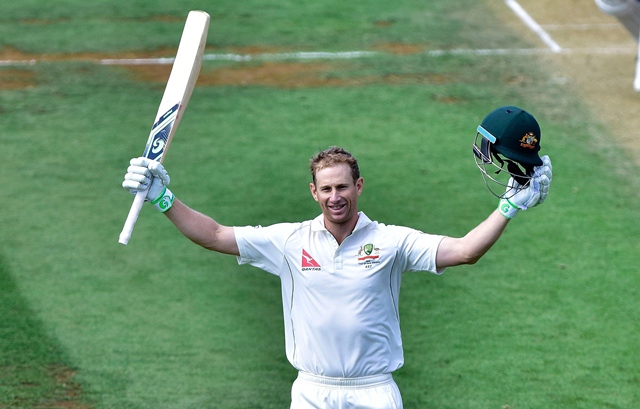 ---
WELLINGTON, NEW ZEALAND: Mitchell Marsh ruined New Zealand's hopes for a Brendon McCullum salvage mission after Adam Voges' record-breaking double century put Australia firmly in command of the first Test in Wellington on Sunday.

At stumps on the third day, New Zealand were 178-4 in their second innings, requiring a further 201 to make Australia bat again.

Test debutant Henry Nicholls was not out 31 with McCullum lbw to Marsh in the final over of the day for 10.

Voges' 239 was in part testament to how docile the pitch had become since New Zealand were rolled for 183 inside two sessions on the first day.

NZvAUS: Voges saved by no-ball drama in first Test

But there were still wickets to be had, as Nathan Lyon and Josh Hazlewood found as they chipped away at the top order.

For New Zealand there were memories of being on the ropes against India at the same ground two years ago and being rescued by McCullum's triple century.

The usually big-hitting captain was showing every sign of looking to dig in for a long stay with his 10 coming off 31 before he was out with three balls remaining in the day.

Martin Guptill (45) and Tom Latham put on 81 for the first wicket, New Zealand's best opening stand against Australia since 1993.

Former Aussie captain Waugh replies to Warne's criticism

Kane Williamson fell for 22 while Latham grafted away for 63 before he tried to sweep Lyon to the leg side and skied the ball in the opposite direction to Usman Khawaja at mid-off.

It was Voges, though, who ensured Australia had a firm grip on the match.

He resumed the third day at 176 and added a further 63 before his marathon 504 minutes in the middle ended caught and bowled by Mark Craig.

It was 614 runs since he was previously dismissed in the pink-ball Test against New Zealand at Adelaide in November, easily bettering the previous record of 497 between dismissals set by India's Sachin Tendulkar in 2004.

It also settled Voges' Test average at 97.46 from 19 innings, after being ahead of Don Bradman's 99.94 before his wicket fell.

His double century -- coupled with Usman Khawaja's 140 -- also ensured a record first-innings lead for Australia against New Zealand in an innings where six Australians failed to reach double figures.

Latham and Guptill saw off the new ball but when they looked comfortable and settled, Guptill tried to smack off-spinner Lyon out of the ground and was caught by Marsh.

Hazlewood, Australia's chief destroyer in the first innings, tempted Williamson to prod at a ball outside off and it was nicked through to wicketkeeper Peter Nevill.

It was a chance for Nevill to make amends after he had dropped Latham when the opener was on 31.

A huge deficit is a situation New Zealand know well at the Basin Reserve, where they request a green wicket to suit their strike bowlers. But if they lose the toss, the advantage goes to the opposition.

Two years ago, it required McCullum's 302 to secure a draw against India after New Zealand trailed by 246 on the first innings.

Last year New Zealand were 135 behind Sri Lanka after the first innings and ended up winning by 193 after Williamson (242 n.o.) and Watling (142 n.o.) put on 365 for the sixth wicket in the second innings and Mark Craig spun Sri Lanka out on day five.

Game-changer Voges cashes in on umpire's blunder

Australian batting hero Adam Voges revelled in his luck Sunday after a game-breaking 239 against New Zealand following an umpiring blunder in the first Test in Wellington.

But he admitted New Zealand had a right to "feel aggrieved" after he should have been out for seven.

"To have that bit of luck and then capitalise on the second opportunity, I'm very happy with," he said after his marathon innings steered Australia to 562 and a lead of 379.

At stumps on day three, New Zealand were 178-4 in their second innings, needing a further 201 to make Australia bat again.

"It has been a great day to get to 200 and get us into a great position is a very satisfying feeling," he said.

Late on the first day Voges was bowled by Doug Bracewell without playing a shot. The umpire called no ball although television replays showed it was a legitimate delivery.

"I thought I was out," Voges confirmed. "You're not leaving it if you hear a no ball called, I would have thought.

"It was a bad leave and I turned around and looked at the stumps, went to walk off and saw the (umpire's) arm out. Yeah, little bit of luck."

Voges knew he had escaped when he saw television footage at the end of the day's play, but said when play resumed on Saturday the New Zealanders were "pretty good" about the ruling.

"They came out pretty well in the second day," he said.

"They have every right to feel aggrieved, I don't blame for that. But they didn't say much."

The 36-year-old Voges has been a late developer as a cricketer, not making the Australian team until last year.

In 19 Test innings since, he has averaged 97.46 after being ahead of the legendary Don Bradman's 99.94 before he was dismissed, caught and bowled by Mark Craig.

He has already been nicknamed "The Don" by teammates, but said he was not comfortable with the comparison.

"That doesn't sit too comfortably with me to be honest. I'm probably happy that I'm out now and it's gone back under (Bradman's mark) and I can go back to playing cricket," he said.

"The boys have been having some fun and taking the mickey out of me a little bit in the changing rooms but it's all good. A bit of fun.

"It was never going to stay there. It won't stay there. I know that."