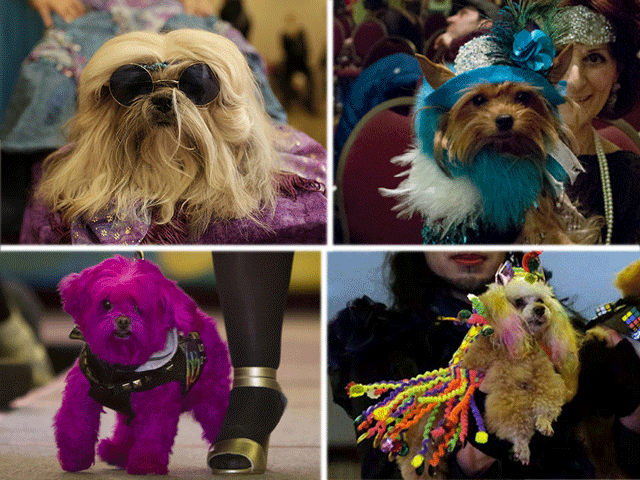 ---
Donning frocks and fabrics of all colors, dogs, cats, chickens and even a lizard strutted to 80s music at a US charity event Thursday.
With hits blaring in the background, the peculiar scene unfolded at the New York Pet Fashion Show -- a fundraiser for animal rescue groups.




The event, in its twelfth year, falls during New York Fashion Week and just before the prestigious Westminster Kennel Club dog show.
"Unofficially, we kick off Westminster weekend," said Gregg Oehler, the event's emcee, who wore a white suit and shades inspired by the iconic 80s television series, Miami Vice.

Pug life: Every dog has its day

Proceeds from the event go to the Mayor's Alliance for NYC's Animals, a nonprofit umbrella organization of 150 shelters throughout the New York area.




Among this year's models was Asiago, a 10-year-old Yorkshire Terrier who was given up by his owner to a no-kill shelter that is part of the Alliance.

On all fours: Pet show has Peshawar's animal lovers purring

Asiago was presented in an elaborate hand-built carriage and shown by Stephanie Mattera, a spokeswoman for the alliance. Like other models, he is looking for his "forever home," as organizers put it.
Asiago was poised throughout his cruise on the catwalk and waited patiently as Mattera spoke with a reporter.
"These events really give these animals a spotlight so they can get the homes they deserve," Mattera said.

Check out photos from past fashion shows: