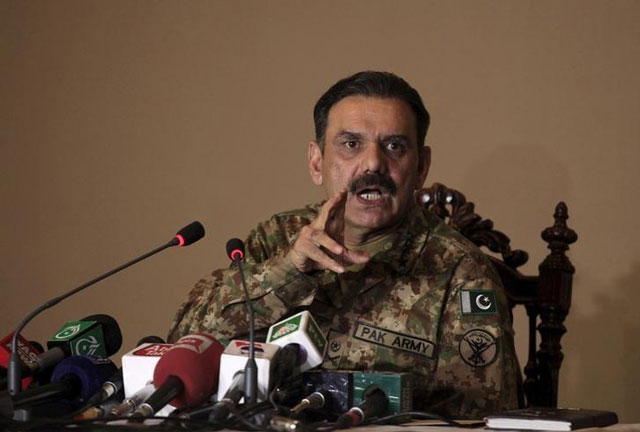 ---
Around 97 al Qaeda and Lashkar-e-Jhangvi militants, including three commanders, were arrested in Karachi and a planned attack to break US journalist Daniel Pearl's killer out of jail was foiled, Director General Inter-Service Public Relations Lt-Gen Asim Saleem Bajwa said on Friday.

The men are accused of involvement in major attacks on two air bases, the Karachi airport, several regional intelligence headquarters and on police installations between 2009 and 2015, DG ISPR said.




The LeJ's Naeem Bokhari and Sabir Khan, as well as Farooq Bhatti, deputy chief of al Qaeda in the Indian Subcontinent (AQIS), were captured by forces in recent raids, military spokesperson Lieutenant General Asim Bajwa said.

Panic erupts after twin grenade attacks in Karachi

"Our conclusion is that all of the terrorist groups are trying to cooperate with each other in order to carry out terrorist attacks," he told a news conference.




The LeJ and AQIS had been working "in collusion" with the Tehreek-e-Taliban Pakistan, Bajwa added. Bajwa declined to give details of the raids, including their timing.

Several of those arrested, including Bokhari, were in the advanced stages of planning a jailbreak attempt on the Hyderabad Central Jail, Bajwa said.




Khalid Omar Sheikh, who kidnapped and killed the Wall Street Journal's Daniel Pearl in 2002, is being held at that jail and was to be released during the raid, he said. Six suicide bombers had been enlisted in the attack plan, in addition to 19 involved in facilitating it, Bajwa said. More than 350 kg of explosives had been recovered from a building believed to be a hideout, he said. Video images of the building showed blue plastic barrels filled with explosives, washing machines that had been used to transport arms and ammunition, long lengths of detonating cord and dozens of ball bearings.

The footage also showed several rifles that Bajwa said had been stolen from police in earlier targeted attacks. "This plan was 90 percent ready for execution," he added.




Zarb-e-Azb has reduced militants' ability to use Pakistan soil: US commander

"Rangers carried out as many as 7,000 targeted operations in Karachi and 6,000 militants out of over 12,000 arrested by the military have been handed over to the police," he said, adding the achievements of the Pakistan Army lie in successfully wiping out militant hideouts from the country especially those in Fata.

He went on to say that the effects of Zarb-e-Azb were not limited to the country but the entire region.

The DG ISPR claimed that since the launch of military operations in the country, there has been significant respite in kidnappings, murders, snatching and other crimes which were at their peak before the start of the operation. "In September 2013, when the Rangers operation began in Karachi, terrorism was at its peak."




Further, Bajwa pointed out that some factions of the society had raised concerns before the start of the military operation fearing it will create backlash in the country. "13,212 operations have been carried out by intelligence agencies," he said.


Military operations helped reduce violence in Pakistan: US defence intel chief


Regarding assassination of Karachi Police SSP Chaudhry Aslam and Karachi airport attack, Bajwa said these attacks were carried out by al Qaeda's South Asia network, claiming the group's commander handled those attacks from Afghan soil.

'Writ of state restored': Terrorists evicted from sanctuaries: Gen Raheel




Bajwa also showed a map of the Hyderabad Jail which he said was prepared by terrorists with the help of a police constable at the prison and revealed they intended to jailbreak. "Three terrorists, including a police constable, who helped terrorists make this map, have been apprehended and are being interrogated by intelligence agencies."

During the presser, the DG ISPR showed a video of a terrorists' compound with a huge quantity of explosives, communication equipment and material. "Weapons have been recovered in Hyderabad jail break attempt. Recoveries include machines to grind explosives and make explosive material, vehicles, ball bearings, police and military uniforms, backpacks and communication equipment," he said.

No let-up in Karachi operation, says Rangers DG




Regarding terror activities in Karachi, Bajwa said there has been 70 per cent respite in terrorism in the metropolis whereas cases of extortion have been reduced by 80 per cent.

'Hostile' spy agencies funding terrorists in Pakistan: COAS

The DG ISPR went on to say that Chief of Army Staff General Raheel Sharif visited Karachi multiple times and spent days in the city to oversee the operation, suggesting implementation of the National Action Plan (NAP) should be sped up to reduce terrorism.


COMMENTS (24)
Comments are moderated and generally will be posted if they are on-topic and not abusive.
For more information, please see our Comments FAQ