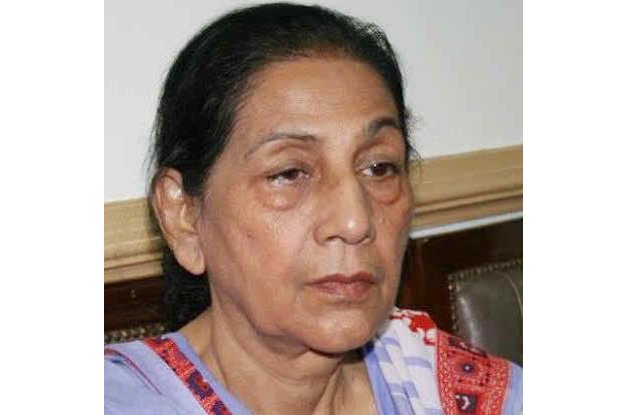 ---
LAHORE: Poet Nasreen Anjum Bhatti, who passed away last week, was a poet par excellence, World Punjabi Congress (WPC) chairman Fakhar Zaman said on Wednesday.

Zaman made the remarks at a meeting of the WPC's executive committee. The WPC chairman said the deceased had a multifaceted personality. He said she was an impressive painter, a competent broadcaster and a diligent researcher.

The WPC chairman said Bhatti had been associated with the congress and had toured India as part of a WPC delegation. He said her work had won laurels in East Punjab. Zaman said she had been invited to mushairas in Delhi, Hyderabad and Lucknow. He said she generally desisted from going there as she was not too fond of promoting herself. Zaman said another reason behind this reservation of hers was that her work was of such lofty standing that it did not need the support of such artifice.

He said he believed that Bhatti was the best Punjabi poet among her peers. Zaman also ranked her among the Indian subcontinent's foremost Urdu poets. Her poetry, he said, was indicative of ingenious use of similes and metaphors. Zaman said she also avoided using purist and archaic words in her work.

The WPC chairman said some of her poetry was so original that it left one wondering about the expanse of her imagination and profundity of the innovative imagery she etched. Zaman said Bhatti was an enlightened, liberal and progressive poet who had relentlessly struggled against dictatorship. He said the deceased had collaborated with some other poets on Khushboo ki Shahadat following the hanging of former prime minister Zulfikar Ali Bhutto. Zaman said she was victimised by the establishment but persevered with fortitude.

He said she had read a paper on Punjabi language and culture at the National Punjabi Conference. He said writer Abdullah Hussain, the chief guest at the occasion, was so impressed by her paper that he had been compelled to state that the most lucid expression only came through in one's mother tongue.

Zaman said Bhatti was in dire financial straits in her last days. He said he had approached the Pakistan Broadcasting Corporation (PBC) director general on this account. Zaman said he had immediately sanctioned a substantial amount of money for her treatment following his intercession. He said the Punjabi Academy of Letters had also been forthcoming in this regard after being approached by him.

The WPC chairman said Bhatti's work would continue to inspire generations. He said she was an icon of Urdu and Punjabi verse. Zaman said she was the epitome of a gentle human soul.

WPC vice president Tariq Khursheed praised the elements of poetry and dissent in Bhatti's work. He said they had jointly struggled for the restoration of democracy. WPC vice president Hafeez Sheikh said he was a great admirer of the deceased poet's work.

Critic Iftikhar Majaz said he had worked on scores of radio programmes with Bhatti. He said she had great clarity of thought. Majaz said the deceased poet's work was particularly rich in diction and contemporary sensibility.

Published in The Express Tribune, February 11th, 2016.