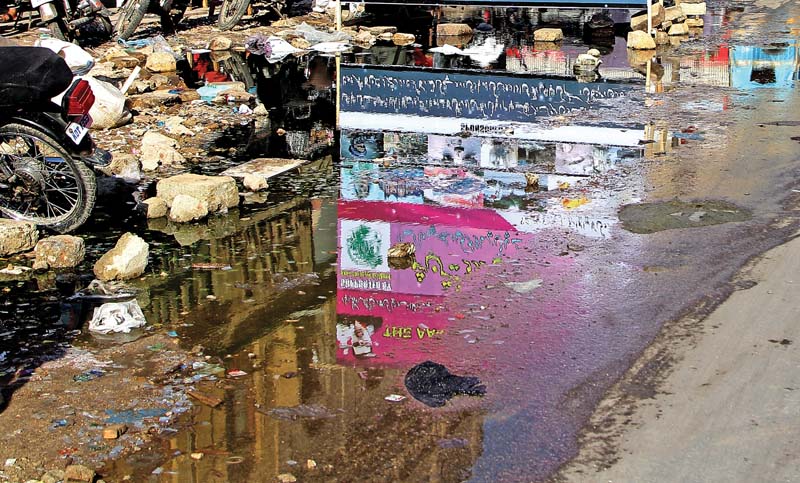 ---
KARACHI: Karachi Water and Sewerage Board (KWSB) officials were jolted out of their deep slumber and had to replace the 18-inch diameter sewage line in Saddar's Bohri Bazaar, after the unique 'gutter fashion show' held last week in front of Chandi Gali.

The fashion show showcased a commode placed beneath a panaflex featuring Chief Minister Qaim Ali Shah's picture. Slogans were also chanted against his government's failure to clear sewage from the city's roads.

'Gutter fashion show': Novel form of protest bears fruit for traders




Thanking the Sindh government and KWSB, the Karachi Tajir Alliance Association (KTAA) celebrated 'Izhar-e-Tashakur' day on Wednesday. The association's president, Ayaz Memon, said that due to their unique way of protest, the government had woken up.

"On February 3, we protested and, on February 5, the KWSB started repairing the broken sewage line," he said, adding that now it was time for the public to celebrate.

He said that they would crown the KWSB officials who speedily carried out the work. However, he pointed out that only a portion of Bohri Bazaar, where they held their protest, was cleaned while in rest of Saddar gutters are still overflowing.

Digging deep: 8-foot-deep crater causes traffic jam, sewage enters houses

He said that they have formed a gutter musical band, which has composed three songs featuring the problems of the common man. On February 12, he intends to arrange a 'bhangra' [traditional dance] with drums in Lines Area, which according to him has been inundated with sewage water for the last several months.

On February 14, he said that he was going to launch a 'kachra kundi festival' [garbage festival], in which he would light up the garbage dens of the city and place dining tables nearby to have tea. This way, he believes, the government will realise the misery of the common man.

Published in The Express Tribune, February 11th,  2016.