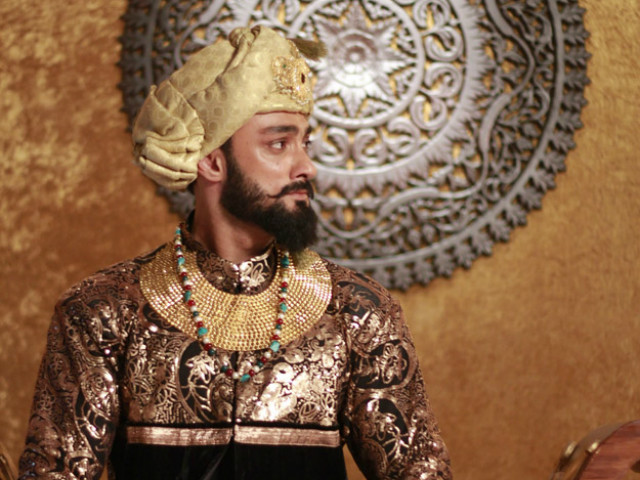 ---
KARACHI: Known as a vocal powerhouse, Umair Jaswal had to abandon his inner rockstar to pave way for a larger-than-life character in Mor Mahal.

"Umair has managed to restore my faith in actors being a species of people who can make the impossible, possible," said ace director and actor Sarmad Sultan Khoosat when asked about casting someone who has never acted before as the lead in yet another magnum opus.

Mor Mahal is a period fantasy TV serial based on the life of 18th Century ruler Nawaab Asif Jahan and his realm Jahaan-a-bad. It revolves around the politics within and outside the harem. "It's like our own version of Game of Thrones. It's [about] the struggle for power," said Umair.

Unlike his contemporaries, the Sammi Meri Waar singer never intended to foray into acting. Speaking to The Express Tribune, Umair revealed the reason behind his career shift.

"I had no aspirations of being an actor or doing television in the first place," he said adding, "Recently, a lot of my friends (Bilal Lashari and Hamza Ali Abbasi being two of them) and my brother, Yasir Jaswal, have been pushing me to do something in front of the camera since I've already tried hands behind it.

"So, I decided if something nice came up; I would definitely give it a shot."

Far from hitting rock bottom

Revealing further how he bagged the lead role of Nawab Asif Jahaan, Umair said, "I was a guest on a morning show and that's when Sarmad saw me on TV."

"I just thought there was something about him that was very actor-ly, at least for this kind of project. It was a complete vibe thing for me," said Khoosat on how he envisioned Umair's character.




After being initially approached for a smaller yet significant role of a musician, Umair decided to "respectfully decline" the offer; however, upon insistence, he auditioned.

Umair was then invited to meet Sarmad Sehbai, the writer and creative consultant, and it was just over only a couple cups of tea that he was offered the lead role. "We didn't talk about the role or the play at all. He didn't make me read any lines. We just had a general conversation and the next thing I know, I am playing the Nawab; everyone was shocked," he said.

Sammi Meri Waar: 'I received hate mail after the song'

Umair was apprehensive to accept the offer at first as he thought he wouldn't be able to do justice to it. "I wouldn't like to take up something that I couldn't deliver." But it was because of Sehbai's conviction and persistence that he decided to put his heart and soul into this mega project

Mor Mahal is a period fantasy based on the life of 18th century ruler Nawaab Asif Jahan and his realm Jahaan-a-bad. It revolves around the politics within and outside the harem. "It's like our own version of Game of Thrones. It's the struggle for power," said Umair.




Getting in to this gigantic character wasn't an easy task as Khoosat said, "Acting requires physical strain and a lot of mental investment".

The singer-turned-actor had to undergo a workshop for two months. He polished his Urdu and acting skills to bring Nawab's character to life on the screen.

Khoosat had reservations over his prowess as the "first two days of the shoot weren't that great or exciting". "But I could just see his determination to get it right and to do it with such passion that it was a delight to witness him," he said.

Umair Jaswal's Hulk moment

It wasn't smooth sailing for Umair personally either. "This character is larger-than-life. He is a son, brother, husband to multiple wives, a father and has 360 plus kaneez (maids). He is a highly intellectual person and a warrior. So, I had to bring all these elements in my personality. It even required using a different register of my voice."




"I had to transform myself physically as well. I needed to have a dominating physique to add to my royal strature," he said, before adding, "My waistline was reduced to 28 inches and I was made fun of on the sets by all the women."

"[The movie including] a time lapse of six years for which I had to slightly change my appearance, gain and lose weight accordingly," he further shared.

Umair will be seen sharing screen space with Hina Bayat as his mother, Meesha Shafi as his first wife, Fizza Ali as one of his other wives and Jana Malik as Kaneez-e-Khaas, among others. "Another difficult part was maintaining different chemistries with each one of them," said Umair.




However, everything comes with its pros and cons. Umair takes his acting debut as much a curse as a blessing because he believes it may limit his opportunities. "It's a curse for me to do Mor Mahal because now I can't do anything which is small," he said.

"I've set the bar so high for myself that if I do something ordinary, I would kill my character and the aura that I am trying to build around it. So, I would like to wait until this serial ends," he added.




But whatever the case may be, Khoosat is confident of collaborating with him again in the future. "I would like to challenge Umair more by taking him out of his comfort zone," he said. "I would definitely want to provoke him to use his mental muscle other than all the muscles he has," he added.

Umair also plans to venture into the big screen with two films already under his belt, "and Yalghaar is not one of them". He is also in talks for two other productions.

Apart from having an action-packed year ahead, Umair plans to resume music by releasing singles and OSTs for both local and Bollywood productions.
COMMENTS (3)
Comments are moderated and generally will be posted if they are on-topic and not abusive.
For more information, please see our Comments FAQ