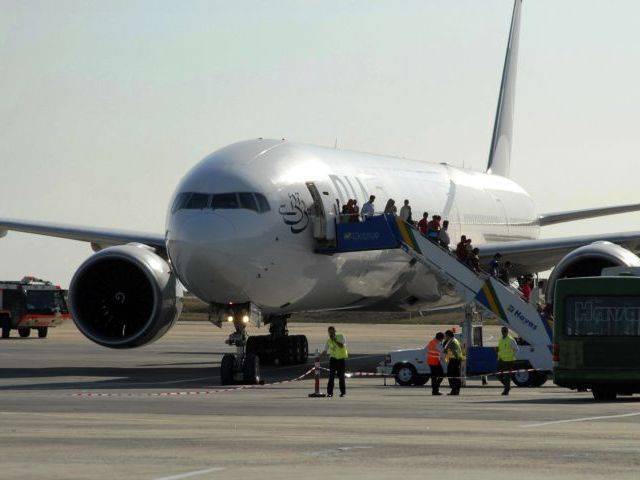 ---
KARACHI:



The Pakistan International Airlines (PIA) staff apparently gave in to intense public pressure on Tuesday and called off their strike after crippling nationwide flight operations for eight days.




The Joint Action Committee of PIA Employees (JACPIAE), an umbrella of over half a dozen labour unions, started the strike last Tuesday in protest against the government plans to sell off the national flag carrier.

All domestic, international PIA flights cancelled as strike enters second day

However, the government refused to budge, at least publicly, insisting it will go ahead with the planned privatisation of the cash-strapped airline. The government had also imposed a ban on all union activities at PIA and served show-cause notices to over 200 protesters under the Essential Services (Maintenance) Act, 1952.

Though the strike was called off, officials said it would take PIA a couple of weeks to sort out its disrupted flight schedule because of the backlog of passengers, who missed their flights and were stranded in various countries.

"We request all employees around the country to report back to duty," JACPIAE Chairman Sohail Baloch announced at a news conference at the PIA head office in Karachi.

"Our delegation is going to Lahore tonight to meet Punjab Chief Minister Shahbaz Sharif. We will address a news conference later and announce what has been decided," he said.

Asked if the government had given any assurances on postponing PIA's planned privatisation, he said it was premature to share details. "After the kind of sureties we have received, there is no reason for continuing with the strike," Sohail said without going into the specifics.

PIA in disarray after bloody showdown

The JACPIAE chairman reiterated the unions were willing to help the government run the airline. "If we are given a chance and our advices are included, trust me there is no reason PIA cannot show positive results within a year."




The entire confrontation has caused the national airline losses of millions of rupees under the head of fixed costs like lease payments, which have to be paid even if planes are grounded.

"That's not even the biggest worry...it will take us a long time to win back our passengers," said an official who has worked at PIA's key marketing department. "Airline business has become very difficult now. Once you lose trust [of passengers], it is very difficult to woo them back."

Government's victory

The government-backed PIA management, which was operating out of an ad-hoc setup in Islamabad, had beaten the unions even before the strike was called off.

While flight operations resumed partially on Sunday, the number of flights had gradually increased till Tuesday morning. A PIA spokesman said the national carrier had flown more than 55 flights since Sunday.

At least 22 flights had departed from and landed at the Benazir Bhutto International Airport in Rawalpindi before the strike was called off. The flights were once again mostly to accommodate Umrah pilgrims coming from and going to Saudi Arabia.

Two killed, several injured as security forces open fire on protesting PIA workers

The Airport police, meanwhile, registered an FIR against five protesting PIA workers for allegedly making threatening phone calls to their colleagues at work. Three more labour representatives were detained under the Maintenance of Public Order (MPO) for two weeks.

Senate session

With the issue almost settled, the opposition's planned show of strength in the upper house of parliament has also gone awry.

The Senate session was convened for Wednesday (today) on the request of mainstream opposition parties, including PPP and PTI, to discuss the crippling strike at PIA.

The lawmakers were likely to berate the government but now it is unclear what impact these speeches would have.

Currently, the combined opposition has enough numbers in the Senate to block any legislation. Any move by the government to convert PIA into a limited company is likely to be shot down. The bill was bulldozed through the National Assembly last month despite the opposition's strong protests.

Govt bans union activity to prevent PIA strike 

At a press meet in Peshawar, PTI Chairman Imran Khan also hit out at the government for going ahead with the privatisation of PIA without consulting the opposition parties or the airline's employees.

He said the PML-N government believed in privatisation because of its personal interests. Imran also clarified his government was against privatisation and would never sell off private hospitals and colleges in the province.



Published in The Express Tribune, February 10th, 2016.