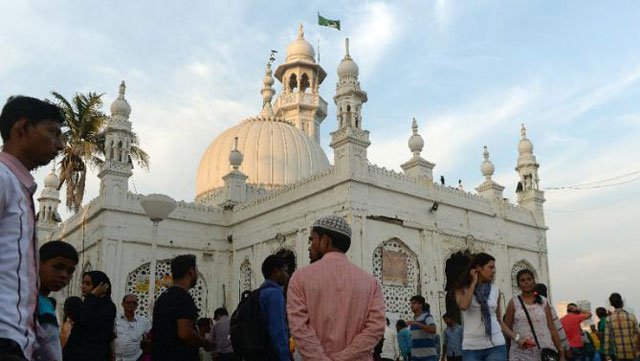 ---
MUMBAI: Officials in the western Indian state of Maharashtra said they were in favour of allowing Muslim women full access to a landmark mosque in Mumbai, bolstering a nationwide campaign to allow women entry to all places of worship.

Lawyers for the state, backing a petition filed by two Muslim women in the high court in Mumbai, the state capital, said on Tuesday the government could not deny the women equal rights.

No kidding: India police arrest goat for grazing in garden

The Haji Ali dargah Trust has said it would be a "grievous sin" to allow women near the tomb of the 15th century Sufi saint housed within the mosque.

The mosque, built on an islet about 500 metres from the coast, can only be reached at low tide and draws tens of thousands of worshippers. The fight to allow women into the shrine gained momentum after a petition was lodged with the Supreme Court demanding access for women to the Sabarimala Ayyappa temple in southern Kerala state.

The Mumbai high court had earlier said it might wait for the Supreme Court ruling on the Sabarimala case before it took a decision on the Haji Ali dargah petition.

Also in Maharashtra, women activists clashed with police last month as they tried to enter the Shani Shingnapur temple, one of a handful in the country which deny women entry. State Chief Minister Devendra Fadnavis spoke out against discrimination in worship and said tradition must accomodate change.

India's women students rebel against university curfews

The protests have also played out on social media, with #RighttoPray and #LetWomenPray trending on Twitter. Activists say the restrictions are based on patriarchy and not religion.

"Whether any authority governing a place of worship is empowered to prohibit women's entry, in clear violation of the constitutional mandate of equality, is the issue which our courts have to decide," said Flavia Agnes, a women's rights lawyer and co-founder of Majlis legal centre in Mumbai.

"It will have a far-reaching impact upon women's rights in other spheres as well."
COMMENTS (1)
Comments are moderated and generally will be posted if they are on-topic and not abusive.
For more information, please see our Comments FAQ