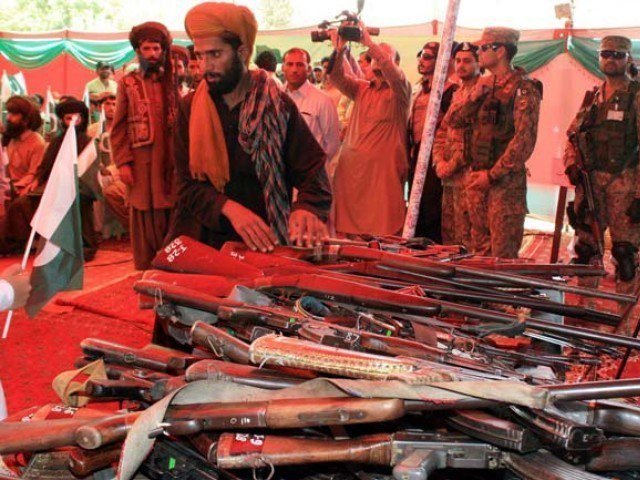 ---
ISLAMABAD:



Negotiations are currently under way with 125 insurgents in Balochistan over their possible surrender of weapons. Some 625 militants have already surrendered before the state in the past six months.




The reconciliation process started under the National Action Plan (NAP) against terrorism has borne fruitful results in the restive province, officials say. Militants who give up violence have been offered cash support and jobs to help them lead a violence-free life.

Balochistan insurgency: 400 militants surrender on Independence Day




According to official documents available with The Express Tribune, exhaustive steps were taken for reconciliation in Balochistan to fulfil a major point under the revised anti-terror policy devised after the Peshawar school attack in December 2014. The policy also called for fully empowering the Balochistan government for political reconciliation with complete ownership by all stakeholders.

Balochistan Home Secretary Akbar Durrani told The Express Tribune said the provincial government was committed to its reconciliation policy and the militants who have already surrendered were being rehabilitated.

Under the scheme, each pardoned militant would be awarded Rs500,000 in instalments besides getting the compensation for his guns. Durrani said many such men have been already paid Rs100,000 as the first instalment.

Insurgency in Balochistan: 49 militants surrender

These people, he added, have been told to get the computerised national identity cards (CNIC) from the National Database and Registration Authority (NADRA) to obtain the benefits. They would also be provided 'Pur Aman Balochistan Card', which would then be used for withdrawing rehabilitation funds.

"Estranged Baloch aged between 18 and 30 years who surrender will be awarded government jobs, including in military and in public sector organisations," Durrani said. "Those above this age group will be trained in technical education."

The female family members of the surrendering outlaws would also be given chances to earn income depending on their skills. Those interested in raising livestock will be given financial support.

The home secretary said the reconciliation negotiations were being held across the board with disgruntled Baloch from all tribes, including Bugtis, Mengals and Marris, for lasting peace in Balochistan.

Amnesty for Baloch militants — will it work?

He said the government was investigating pardon cases individually whether someone who wanted to surrender was genuinely interested or not. Upon agreeing to the terms and conditions of the government, individuals are required to report to the nearest police station in his area for confirmation.

The impoverished province Balochistan has been plagued by violence in recent years. Chief Minister Sanaullah Zehri in his maiden speech to the provincial assembly had fully backed the political reconciliation process.

Published in The Express Tribune, February 8th,  2016.