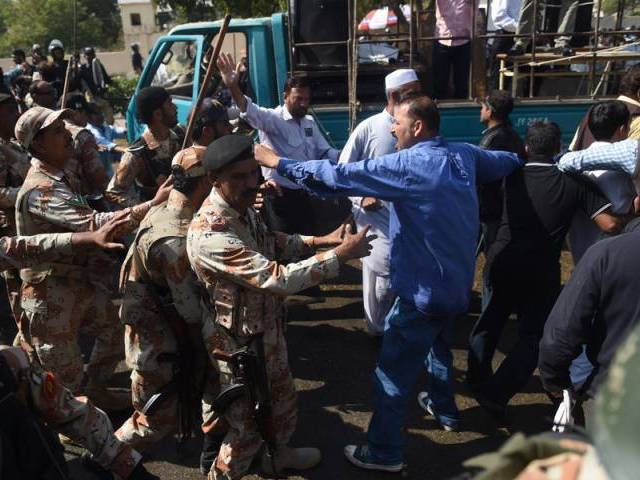 ---
ISLAMABAD/ KARACHI:



Police registered a criminal case on Saturday against top aides of Prime Minister Nawaz Sharif in connection with the killing of two PIA workers as signs of discord appeared within the ranks of Pakistan Airlines Pilots Association (Palpa) over the ongoing strike against the government plans to sell off the national flag carrier.




Police registered an FIR against several federal government officials, including Information Minister Pervaiz Rashid, Privatisation Commission head Muhammad Zubair, Senator Mushahidullah Khan and PM's Special Assistant on Aviation Shujaat Azeem, on the complaint of PIA Joint Action Committee Chairman Sohail Baluch.

Police to investigate officials over PIA employee deaths

PIA's General Manager (Administration) Brig (retd) Asif and another official Mama Maqsood have also been nominated in the FIR which includes charges of murder and attempted murder.
"A case has been registered on the court orders. Sohail Baluch is the complainant in the FIR," confirmed District Malir SSP Rao Anwar. "Apart from the alleged murderers, some government officials have also been named in the FIR for hatching a conspiracy."

Two PIA employees were killed by 'mysterious' gunshots on Tuesday when scores of PIA workers clashed with law enforcers outside the Karachi airport during a violent protest against the planned privitisation of the airline. Police investigators have not found any clues as to who fired the fatal shots. On the day of the incident, police claimed that they had recovered the casings of the fatal bullets. Surprisingly, however, they now deny any empties were found at the crime scene.

A man highlighted in television footage of the protest as possible shooter has turned out to be a PIA protester. The man, who has his face covered in the footage, showed up at the PIA headquarters on Saturday to tell the media that he was a PIA employee. "I had covered my face on the protest day to save myself from tear gas," he said.

PIA asks crew members to pay or vacate hotel

Meanwhile, signs of discord appeared within the ranks of Palpa when its president Amir Hashmi announced that most pilots were ready to get into the cockpit. However, an official statement issued by Palpa through its public relations agent did not specifically mention if the association was ready to break away from the strike led by the Joint Action Committee of PIA Employees (JACPIAE).

"Palpa Executive Committee stands united on all issues. It also supports anti-privatisation stance of all employees," it said in a vague statement. "Palpa members were neither instrumental in halting the flight operations nor they alone can resume it."

Earlier in the day, Hashmi told news channels that most pilots were in favour of resuming flight operations. Pilots were ready to report to work but they were receiving threats from protesting employees, he claimed. Palpa's official statement also referred to the matter. "The Executive Committee of Palpa unanimously condemns in strongest possible words the threat given to its president Captain Amir Hashmi from the forum of JACPIAE and demands an unconditional public apology."

Television channels have been showing footage of a union leader warning the Palpa president during a speech before protesters. But difference in opinion was obvious even among the 14-member Executive Committee, which met with only four office-bearers under the chairmanship of Vice President Sadiq Rehman.

PIA strike takes a toll on airport businesses

Despite repeated attempts neither Rehman nor Palpa General Secretary Sohail Ahmed responded to phone calls and texts for comment. Hashmi was also unavailable. "Hashmi is a weak leader. He has not been able to take a firm stand on any of the issues. Most of the pilots are sticking with the strikers," said a JACPIAE leader.

Desperate to find a way out of the crisis, the government has started influencing the leadership of various unions through discreet approaches. Removal of Shamim Akmal, the president of the PML-N-backed CBA, from top leadership of the JACPIAE is also being seen by many as result of his political loyalty coming in way of the strike.

On the political front, PTI Chairman Imran Khan flew to Karachi to express solidarity with the PIA employees and presented his charter of demands."For the sake of the country, and the passengers suffering, Nawaz Sharif should hold talks.  When a person stands for his right, he is shot down. This is illegal and unlawful," he said.

Presenting his charter of demands with regard to PIA, Imran asked the government to announce a judicial commission to probe the February 2 incident, to withdraw Essential Services Act, to assure workers that no coercive action will be taken against them and to announce deferment of PIA corporatisation by one year.

He also appealed to the employees to defer their strike so that Pakistani citizens do not suffer.


Published in The Express Tribune, February 7th, 2016.