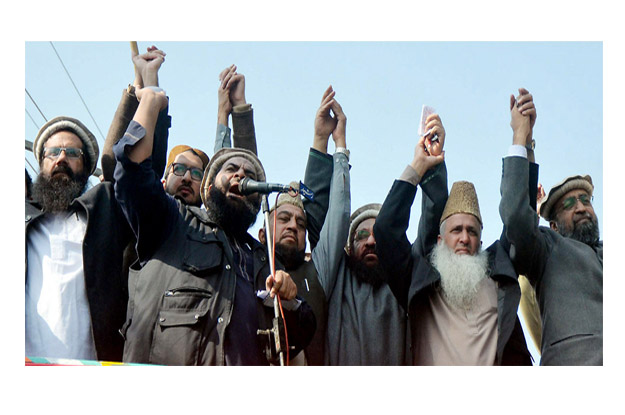 ---
LAHORE:



Several individuals affiliated with the Jamaatud Dawa (JuD) on Friday gathered near the Lahore Press Club in a new avatar—Azadi-i-Kashmir Rabita Council—and delivered speeches in support of the Kashmiri freedom struggle.




Earlier, the JuD was refused permission to organise a rally on the occasion of Kashmir Day. While those present did not carry JuD flags, everyone carried national flags. JuD leader Hafiz Abdul Rehman Makki presided over the rally.

A source in the DCO's office told The Express Tribune that the outfit had not been permitted to organise the rally. He said the JuD members had later decided to gather in front of the press club following talks with police.

Habibullah Salafi, an official from the JuD's media wing told The Express Tribune that the outfit had marked Kashmir Day by organising a Yuckjehati Kashmir Conference. Pir Sayed Haroon Gilani, Allama Zubair Ahmed Zaheer, Sahibazada Sultan, Ziaullah Shah Bukhari, Sheikh Naeem Badshah, Ghulam Murataza and Qari Yousaf Ahrar were among those who participated in the event. Separately, JuD supremo Hafiz Saeed led a rally in Islamabad.

Addressing those present, Makki said India had been orchestrating attacks at educational institutions across the nation. He said Quaid-i-Azam Muhammad Ali Jinnah had called Kashmir the jugular vein of the nation. He said India was involved in dispatching terrorists to Pakistan after training them in Afghanistan.

The JuD also organised protests in connection with Kashmir Day in Gujranwala, Faisalabad, Sialkot, Jhelum, Rawalpindi, and Multan. The Jamaat-i-Islami (JI) also staged a protest demonstration on The Mall near Masjid-i-Shuhada in this regard. Scores of men, women and children participated in the demonstration.

In a statement issued on Friday, Shia Ulema Council president Allama Sibtain Sabzwari said over 50 per cent of parliamentarians including Prime Minister Nawaz Sharif were ethnic Kashmiris. He said they should strive for Kashmir's freedom. Sabzwari said Kashmiris had rendered great sacrifices for freedom over the last 68 years.

Jamiat-i-Ulema Pakistan (N) chief Syed Muhammad Masoom Hussain Naqvi said Kashmir would be liberated through courageous decisions by the national leadership. He made the remarks while addressing a conference organised in connection with Kashmir Day. Naqvi said the United Nations (UN) had failed to play its role with regard to the resolution of the Kashmir dispute.

In a statement issued on Friday, Nizam-i-Mustafa Party leader Sahibzada Hamid Saeed Kazmi said the UN should strive to liberate Kashmir from India's clutches. He said Kashmir desks should be established across all Pakistani missions abroad.

Published in The Express Tribune, February 6th, 2016.