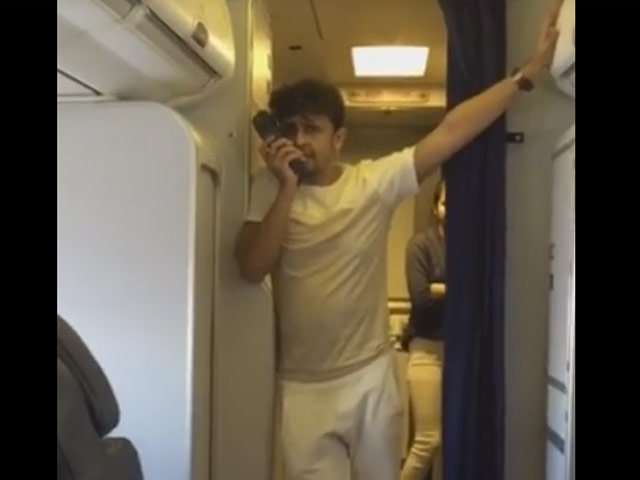 ---
Sonu Nigam's concert on Jet Airways may have bowled passengers over and left others jealous but Indian aviation regulator was far from impressed and took strict action against it.

Following the incident, Directorate General of Civil Aviation asked the airline to suspend the five air hostesses on board for allowing the singer to use the in-flight intercom, Times of India reported.

Watch Sonu Nigam sing -- 30,000 feet in the air

Subsequently, the airline has been warned and directed to ensure this does not happen again in the future.

A statement issued by Jet confirmed the action. "All cabin crew on the flight have been taken off flight duty for enquiry and corrective training to reinforce strict adherence to operating procedures," read the statement.

The aviation regulatory system has termed the act as a misuse of the in-flight announcement system and is keeping a check on all air hostesses who allow passengers to use the in-flight announcement system.

Upon hearing the news, Sonu told IANS: "I have witnessed an elaborate fashion show in an aircraft. I have heard of small concerts happening in an aircraft. I have seen pilots and crew members cracking humorous jokes to loosen up passengers in other countries, which is so cool."

This video of Atif Aslam and Sonu Nigam performing together will blow you away

"To suspend crew members for asking me to sing on the address system, when the seat belt signs were off, and no announcements were to be made, is nothing less than punishing someone for spreading happiness," he wrote.

He called the act "real intolerance" stating that Indians "need to loosen up". "Pity there's no one to question such harshness except the media perhaps. Indians, need to loosen up. According to me, this act is a lack of common sense and is real intolerance," he added.

Twitter saw mixed reactions to the incident.


Sonu Nigam on plane n jet airways staff suspended. No place for innovation in cooperate world but It must be treat for passengers.

— Amt (@amit302) February 5, 2016
Hollywood : Snakes on a Plane.
Bollywood : Sonu Nigam on a Plane.

— Ajay Kumar (@AJumpper) February 5, 2016
Crew punished because Sonu Nigam sang in the plane.

Imagine what would have happened if Himesh Reshammiya was on board...

— Rashi (@rashi_kakkar) February 5, 2016


https://twitter.com/HaramiParindey/status/695486457708806144


Sonu Nigam sings in plane- Air Hostes got suspended.

Terrorist hijacked plane- Well.. umm.. meehh.. duh.. lets play politics on this

— Godman Chikna (@Madan_Chikna) February 5, 2016
So yeah. Jet Airways suspends crew that allowed Sonu Nigam to sing on a plane. Woohoo! Life is not a fucking movie. Learn.

— Rizwan. (@RizwanTakkhar) February 5, 2016


The in-flight concert took place during a chartered flight from Jodhpur to Mumbai on January 4. Where passengers on board had requested Sonu Nigam to sing.




COMMENTS (7)
Comments are moderated and generally will be posted if they are on-topic and not abusive.
For more information, please see our Comments FAQ