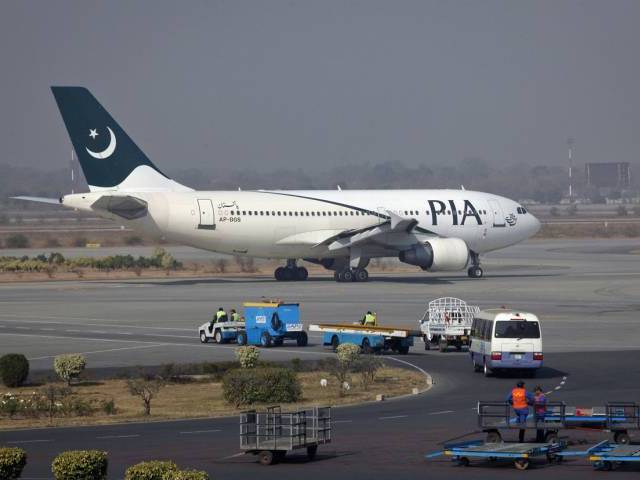 ---
PESHAWAR/ KARACHI:



The government invoked the infamous services act on Monday, restricting all labour union activity for six months specifically aimed at restricting PIA union workers from disrupting flight operations.




The move came on the eve of a potentially crippling strike by the national airline employees starting from Tuesday (today).

PIA staff to strike on Tuesday

Prime Minister Nawaz Sharif approved the extension of the Essential Services (Maintenance) Act (ESMA) 1952 to PIA on the recommendation of the Aviation Division for 'ensuring smooth sailing of the airline's affairs', stated a PM Office statement.

Defending the move, Information Minister Pervaiz Rashid said PIA's losses had touched Rs30 billion in 2013 and the government had been working hard to improve the organisation.

He said the prime minister had promised no PIA employee would be sacked, but even then the unions were causing inconvenience to passengers.
He added the government had finalised arrangements to continue flight operations in case of any strike.

"We want to make PIA a viable, profitable and modern organisation through investments. Progress of PIA means more income not only for the institution but also for the employees," Pervaiz said. "The culture of strikes and threats will never be accepted."




Upcoming disturbance

The Joint Action Committee (JAC) of PIA's labour leaders decided to go ahead with their planned strike after the government refused to commit to keeping PIA as a completely government-run organisation.

Across the country, pilots, cabin crews, engineers, flight dispatchers, ground-handling crew, tickets attendants and some management officials have vowed to walk out of their work stations from 7am to protest against the PIA's proposed sell-off. They also plan to stage rallies in and around airports – in part to ensure detractors do not fly the planes.

"We have been told this can lead to arrests but there is no turning back now," said JAC Chairman Sohail Baloch, who has once again emerged as the top union leader five years after he led a successful campaign leading to the ouster of then PIA managing director Aijaz Haroon. "They can beat us all they want… We are ready."

The Karachi leadership has been promised support from all over the country. In Peshawar, PIA employees said they would not step back until their issues were addressed.

Pilots' strike: PIA rejects PALPA demands

"Whatever they [the leadership in Karachi] decide, we will follow but what I can see is the government is not interested in negotiations," JAC Khyber-Pakhtunkhwa President Rahat Iqbal told The Express Tribune.

He said the government had promised not to table the bill for PIA's sell-off but even then the law was passed. "How can you trust someone who has already failed to fulfil a promise?"




No fallback plan

But PIA officials are at a loss to explain how exactly the services law can be made effective against the strike in the absence of any fallback plans.

Usually when a confrontation erupts with the airline unions, the managements have a reserve force of pilots, engineers and flight dispatchers – something completely amiss at PIA.

Except for a handful of pilots working on deputation, most of the pilots are affiliated with the Pakistan Airline Pilots Association, which is backing the agitation. Similarly all 800 engine, airframe and avionics engineers are rallying behind Zakir Farooq, the president of the Society of Aircraft Engineers.

Amid all the chaos, PIA Chairman Nasser Jaffer is in Paris, France to attend a board meeting of the PIA Investment Limited – something that could have easily been postponed considering the severity of the situation.

People close to Nasser say he will go on a planned vacation after the meeting.

Nasser has been left to confront the situation alone since the resignation of Shujaat Azeem, the prime minister's special assistant on aviation. Right now PIA is being managed by its Engineering Director Maqsood Ahmed.

Protests continue

On Monday, the PIA staff continued their protest and closed down all offices. The union members under the JAC flag also protested outside the airline's head office, demanding the government take back the privatisation law or get ready for the strike.

JAC spokesperson Nasrullah Khan Afridi lamented the enforcement of the services act, saying there was now no difference between a democratic government and a dictatorship.

JAC Secretary Obaidullah Khan said the committee had presented four demands to the government. "We will not be responsible for any losses if the government does not respond," he added.

PIA's spokesperson Daniyal Gillani claimed there had been no disruption in the flight schedule till Monday night.

Published in The Express Tribune, February 2nd, 2016.