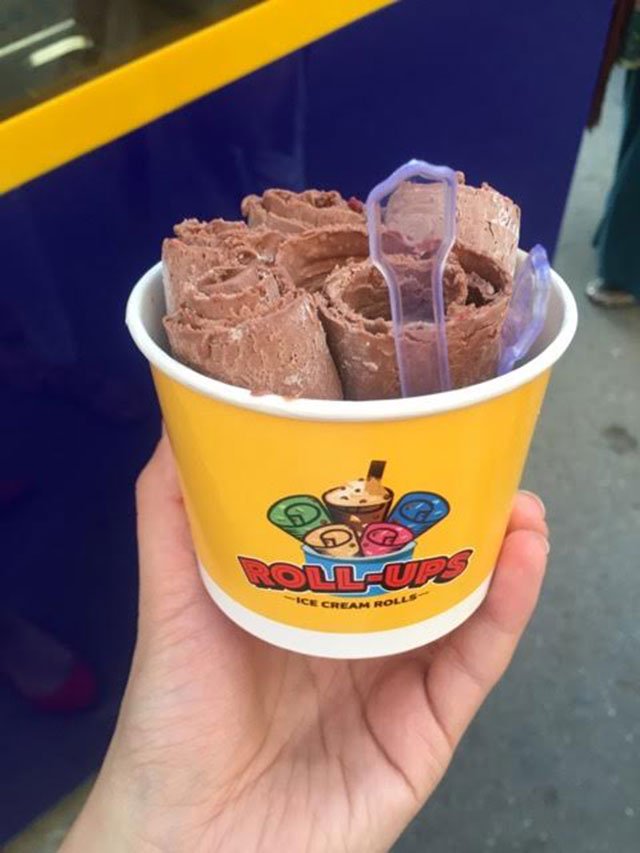 ---
KARACHI: Move over fro-yo! There's a new dessert in town. Popular on the streets of Thailand, ice cream rolls have finally made their debut in Karachi and are a street treat not to be missed.

We predict ice cream roll-ups are going to be trending this summer, because unlike your typical scoop, roll-ups are a sweet concoction of pure frozen delight.

British scientists develop slow-melting ice cream

The start-up was launched this week in Karachi, after two friends, Zafeer Siraj and Hatim Turk, fell in love with the concept after trying it out in Thailand.




"We came across ice cream rolls as a social media sensation which seemed rather appealing," Zafeer said while speaking to The Express Tribune. "Having tasted it in Thailand and Singapore, we were instantly convinced this culinary experience, coupled with the customised flavours, is something we had to bring to Pakistan," he added.




The process starts by pouring a liquid ice cream base on to an ice pan over which 'mixins' are thrown and chopped. The mixture is then flattened and left to freeze for a short while, after which the rolls are made and served fresh with your choice of topping.




"At rollups, we make fresh ice cream everyday right in front of your eyes," Zafeer explained.

"Every serving is customised as per our customers' desire, making each order unique. Our customers can opt for fresh fruits, chocolate or peanut butter among other mixins," Hatim said.




The duo attribute their motivation behind the concept to all foodies out there. "Our concept is simple - to bring a new experience with creative flavours at affordable prices for people to appreciate," they said.

Having spotted a niche in Karachi's huge food scene, they opted out of opening just another regular ice cream boutique. "We didn't want to open just another ice cream boutique - food means a lot more to us in Karachi," they said.




"It had to be entertaining and memorable with an appeasing palate. With a growing number of flavours and 'mixins', we are happy to have this concept which adds colour and excitement to the cliche ice creams we have been having," Hatim said with a smile on his face.

A quick guide before launching a start-up

The start-up has already received a phenomenal response. "We have a few ideas up our sleeve which we will roll out over the next few months including expansion to other parts of the city and country," Zafeer shared.




It's fun to watch your ice cream being made right in front of you, which also provides obvious Snapchat opportunities. Not only does it taste good, but it is visually appealing; good enough to be 'grammed!




Foodies rejoice, this new dessert is nothing short of revolutionary! The kiosk can be found outside Agha's supermarket. You can learn more about them here.