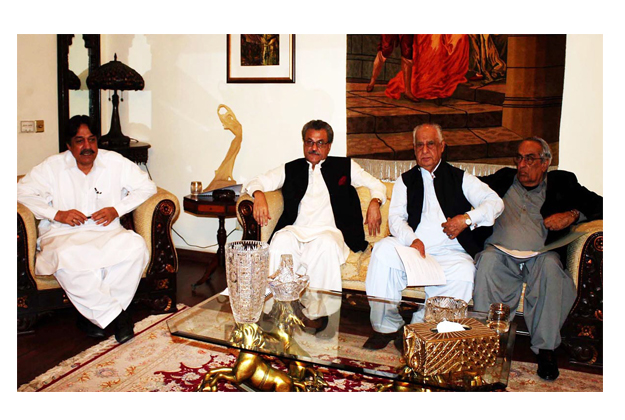 ---
KARACHI: Joining hands against the Sindh government, the opposition parties on Saturday formally launched the Grand Democratic Alliance to start agitation against the provincial government.

This was announced by more than a dozen parties and anti-Pakistan Peoples Party (PPP) groups that met at the house of Pir Sadaruddin Shah Rashdi, the younger brother of Pakistan Muslim League-F (PML-F) leader Pir Pagara.

After the closed-door meeting that continued for four hours in Karachi, the leaders addressed a joint press conference. "We want to remove the corrupt government of Sindh," said Sindh PML-F head Syed Sadaruddin Shah Rashdi. He said that the government has broken all past records of corruption and has done nothing to save the lives of innocent children in Thar.

"All participants of the alliance have held the PPP government responsible for unabated deaths of children and terrorism in Karachi and other districts of the province," said Rashdi.

The Sindh government has laundered more than Rs3,000 billion in the past seven years, claimed Rashdi, adding that the grand alliance wants see good governance in the province.

Former Sindh home minister Dr Zulifqar Ali Mirza and Ayaz Latif Palijo of Qaumi Awami Tehreek asked the apex court to take suo moto notice of corruption in Sindh.

Rigging charges

"We also demand action against those officials who are involved in massive rigging in the local government and general elections," he claimed. "We request the federal government and relevant authorities to hold free and fair census under the supervision of the army."

Former Sindh chief minister Liaquat Jatoi was of the view that the state machinery was used in general election in 2013 and PPP hijacked the mandate of its opponent in recent local government polls too.  On the arrest of Lyari's notorious gangster Uzair Baloch, Mirza said that his arrest will be beneficial for Sindh. "He can disclose the names of those who have managed to flee the country after looting Sindh's resources."

Mirza maintained that Baloch is innocent and was a pawn in the hands of PPP. "I will help him if he needs," he said.

Published in The Express Tribune, January 31st, 2016.