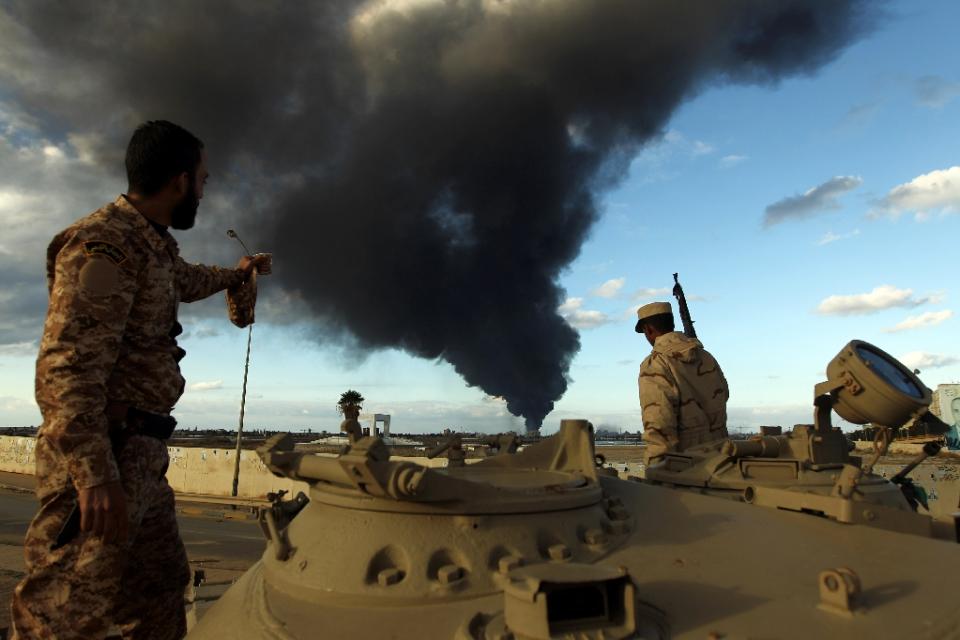 ---
BENGHAZI: Libya's internationally recognised parliament was set to vote on Monday on ratifying a UN-backed peace deal and endorsing a unity government seen as crucial to stemming widespread unrest.

The United Nations and Western diplomats have urged Libyans to back the agreement as a step toward ending the political chaos and strife that have gripped the country since the 2011 ouster of long-time dictator Moamer Kadhafi.

Libya currently has two rival administrations and parliaments, with the internationally recognised authorities based in the east and a militia-backed authority holding power in Tripoli.

Lawmakers have for days been heading to eastern city Tobruk -- where the 176-member legislature has been based for a year and a half -- for the two votes, parliament member Fahmy Tuwaty said.

At least 50 dead in Libya police school suicide truck bombing

A national unity government headed by businessman Fayez al-Sarraj was formed last week under the UN-sponsored accord, but the recognised parliament needs to approve it for it to start working.

The parliament needs a quorum of 89 members to hold Monday's session and a majority of two-thirds plus one for a successful vote, a parliament official said.

But around 60 parliamentarians are opposed to the UN-sponsored deal, Tuwaty said, mainly over an article that provides that the unity government, once endorsed, will approve top security and military positions.

They fear that powerful army chief General Khalifa Haftar will be removed from his post, he said.

Da'ish attacks key Libya oil facility: military official

The parliament's head Aguila Saleh and Haftar have also criticised the UN-backed accord.

The head and members of the rival Tripoli-based General National Congress also oppose the deal.

While their support is not necessary for the unity government to start operating, they could prevent it from working out of the capital.

Aerial strike: US confirms Da'ish Libya hit

Prime minister-designate Sarraj, who has so far been operating out of Tunisia, arrived in Algeria for a visit on Monday as he continues to seek support from regional governments.

Libya has been divided since a militia alliance including extremists overran Tripoli in August 2014, causing the recognised administration to flee east.

The Islamic State extremist group has taken advantage of the turmoil to expand its influence in the country, in recent weeks launching attacks from its stronghold in the city of Sirte on facilities in the "oil crescent" along the country's northern coast.
COMMENTS
Comments are moderated and generally will be posted if they are on-topic and not abusive.
For more information, please see our Comments FAQ