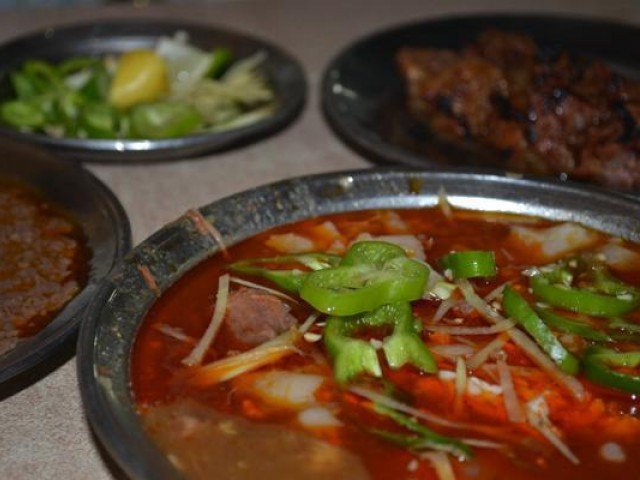 ---


I am a Lahori. I am married to an even more authentic Lahori from the inner city. My American son calls us 90 percent food and 10 percent human.  We are the people whose eyes glow at the mention of nihari, seekh kebabs, and karahi. We are up to our eyeballs in gajar, chanay ki daal and paithay ka halwa in foggy winter nights and kachi lassi, Benazir qulfa and Riaz falooda in the blistering summer evenings.




I truthfully do not remember the exact moment that I decided to be a food loving Lahori. May be it was when dad decided to settle down in Lahore after retiring from the military or may be it started during the year and a half at Kinnaird College, when a couple of friends  would share a plate of shashlik at the newly opened Salt n Pepper because that is as far as our pocket money went.  Or as a Kemcolian, weaving  through  Anarkali for Al-Karim's fresh aalu ki patties, or gulab jamuns, straight out of the karahi of a small roadside vendor.  May be it materialised when I looked forward to the emergency call nights at Mayo Hospital as they entailed a sumptuous Gowalmandi  breakfast in the morning, before ward rounds .

All I know is that it all transpired like a love affair, unfolding itself with each passing moment. Along the way, I made friends and then came the friend, more than just a friend. You know you are a Lahori when the most you recall about your dates, i.e. close encounters of the desi romance kind, is the places you ate at. I remember the many hours spent with him looking for new places to eat at in Lahore. The two loves of my life are with me to this day.  It almost feels like we have matured together talking about movies, politics, religion and fermented together talking about food.

So whether it was relishing dahi bhallay from a hawker near Grindlays Bank on the Mall, or sipping kanji in Icchra or Haji's mango juice by the Data Darbar or indulging in a tall glass of Tutti Fruiti at the Shezan, we were together. That was when I perfected the art of being a Lahori. Three decades have passed by since then and I have been a full time American for almost 20 years now.  To this day, on our yearly visits to Lahore every winter, we enjoy revisiting our love. We go to places we used to and we are charmed by plenty of new discoveries.

This last December, on one foggy morning, I wanted my husband to take me to Waris Nihari. I went back a good quarter of a century down the memory lane with him, sometimes in my parents' Suzuki FX and mostly on his Honda 70, that zipped through the traffic with ease to take us to places where a car could not squeeze in, riveting through the narrow alleys of Anarkali, Paisa Akhbar gali and then Aabkari Road for a plate of oil drenched indulgence with the whole enchilada of nali (bone marrow) and maghaz (fried brain). That day, it was a matter of driving from DHA all the way to Anarkali. A drive we eagerly embarked upon to take us to the same old shop, with the same old sweet and savory aroma. It was six in the morning and there was a long queue of buyers already. Only this time as I walked through the muddy puddles of the street clenching my husband's sleeve with one hand and my expensive phone with the other, there was more on my mind than just  food. I was thinking how can people in this area afford a plate for Rs350 for the plain and Rs850 for the one with full accompaniments? How safe is it to be here in a crowd this early? How much do they pay in taxes?

My eyes were seeing a young boy, no older than 10, sitting by the tandoor, expertly rolling the dough into small balls to be passed on to the naan-bai who diligently juggled between  two iron rods and a 'gaddi' for naans, as he eagerly met customers' demand. Overseeing all this was an authoritative gentleman, probably the proprietor, sitting by a huge daigcha to dish out the nihari from.

"Aap ki dukan par tees saal pehlay bhi aatay thay jab KE mein parhtay thay"

(We used to come here some 30 years ago, when we were students at KE)

I heard myself saying.

With a spark in his eyes, and a generous smile tinged with a hint of arrogance, he offered a small plate for tasting:

"Bohut mehrbani  ji. Ab bhi medical kay student aatay hain meray paas. Aap yeh check karain baji. Koi farq nahin ho ga InshaAllah"

(Thank you. I still get medical students as customers. Check this out ma'am. You won't find it different from what you had)

Truly, there was no difference. The perfect blend of spice, coming-off-the-bone-tender meat in thick gravy, savoured the taste buds.  Our order was handed over to us with a few nice exchanges. As we were leaving, my eyes caught another glimpse of the young boy at the tandoor. Amidst the roar of the traffic, clapping sound of the naans in making, the ever familiar sweet aroma of the sheer-maals, I was thinking how many years have passed by? How many 10-year-olds have sat here doing this? Did these hands ever hold a book?  How far away is the nearest school? Do these little hands hurt at night?

I could not get an answer to these questions.  I came back to the world that has been very kind to me.

F Shereen is a practicing physician.  She lives in St Loius, Missouri, USA.

Published in The Express Tribune, January 24th, 2016.
COMMENTS
Comments are moderated and generally will be posted if they are on-topic and not abusive.
For more information, please see our Comments FAQ