The World Wrestling Entertainment (WWE) went live in India on January 15 and 16 at the Indira Gandhi Indoor Stadium in New Delhi, but the world's most popular wrestling federation had to apologise for events of 17 years ago before they were allowed to do so — similar to what Pakistan players have been asked to do so if they want to play in the Hockey India League (HIL).
Nearly 17 years ago, on March 7, 1999 to be precise, former wrestler Kurt Angle made his debut on Saturday Night Heat and blew his nose on the Indian national flag.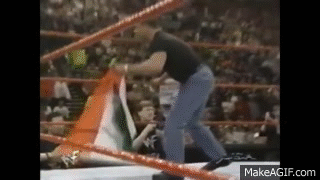 Hockey India League: Apologise if you want to play, India tells Pakistan
As the story goes, Kurt's actions were in response to an Indian wrestler Tiger Ali Singh's comments which degraded the image of the Americans. In those years, the images did not stir up any controversy.
But when advertisements of WWE landing in India started last year, a hindu group Aadvanshi Veer Sena highlighted the nose-blowing incident in an attempt to campaign against the WWE event.
As a result, WWE international president Gerrit Meier apologised to the nation.
Former Pakistan hockey coach slams India's demand for apology
"This case is about 20 years ago and we did not deliberately do that. We have great respect for the country. We are sorry that it happened, but we had no intention of doing it. India is a reputable country and we apologise for this… We are extremely pleased that India is hosting the live events again."
Hitting close to home
The events don't come as a surprise to Pakistanis as something similar happened when Hockey India (HI) and the Indian players demanded apology from Pakistan players for the 2014 Champions Trophy incident as a prerequisite for the Greenshirts' participation in the HIL.
The 2014 Champions Trophy semi-final saw Pakistan players making offensive gestures to the Indian crowd as the Greenshirts defeated the hosts 4-3, for which three members of the national team were banned from the final.
We won't interfere in Pakistan-India hockey matters: FIH
Indian skipper Sardar Singh backed the exclusion of Pakistani players if they fail to apologise. "Pakistan players are suffering, but what they did during the Champions Trophy was unacceptable," Singh told the Press Trust of India. "They still haven't apologised for their behaviour, so I feel they shouldn't be allowed to participate in the HIL."
Former hockey head coach Shahnaz Sheikh responded to Sardar's comments by saying the neighbours are still bitter about defeat. "Indian hockey was not able to digest the loss against Pakistan in the Champions Trophy. So they are twisting that case further. Pakistani players were barred from the next match, the final, which we lost as a result of their actions."
PHF rejects India's demand for apology, asks FIH, AHF to take 'stern' action
Sheikh added, "Pakistan will reply India on the ground. And we did reply to them when we beat them at home. What are the Indians complaining about? The International Hockey Federation punished our players for their mistake but Indian spectators pointed fingers and chanted abuses at me and my players, what about that?"