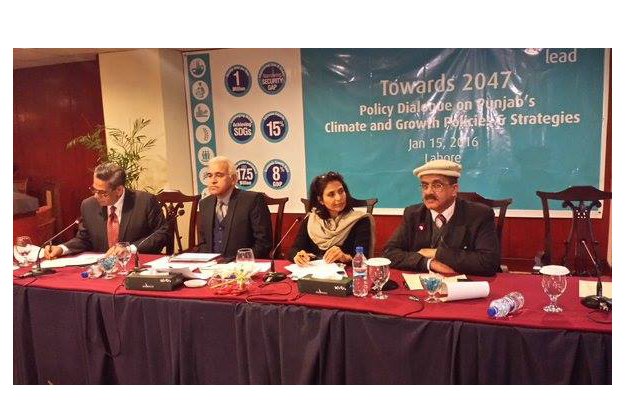 ---
LAHORE:



The policies dictating administration of cities in the province were developed to cater to short-term needs. The planning of cities should be undertaken with a 30-to-40 year time horizon in mind, The Urban Unit CEO Nasir Javed said on Friday.




He was speaking at a policy dialogue on the provincial government's climate change policy. Towards 2047: Policy Dialogue on Punjab's Climate and Growth Policies and Strategies was organised by the Leadership for Environment and Development (LEAD) Pakistan.

Javed said several regions in the province had undergone rapid urbanisation in recent years. He said the rate of urbanisation had been particularly acute in the Lahore-Gujranwala region. He said population density was quite low in almost all of the regions urbanised in recent years. Among the drawbacks of such an urbanisation were waste of scarce land previously used for agriculture, reduced capacity of land to retain underground water and surge in expenditure on transport facilities, he added.

Javed said cities should be planned in such a way that population density did not cross an optimal level.

Khalid Mohtadullah from Pakistan Water Partnership spoke on Pakistan's vulnerability to climate change. He sought revisions to the Indus Water Treaty saying that it was no longer practical. He said these revisions should be informed by relevant research studies.

Mohtadullah said that when the agreement was signed there wasn't enough awareness about environmentally-viable flows in the rivers concerned. He said construction of dams by India on the three western rivers would reduce the flow of water to a dangerous level. "When the treaty was signed no one had anticipated the establishment of 30 to 40 dams on the Indian side," he said.

Provincial Commission on the Status of Women chairperson Fauzia Viqar said that compared to men women were more vulnerable to the impacts of climate change.

In the keynote address, Dr Kaiser Bangali said human greed had led to the degradation of the earth's ecosystem and promoted inequality in the society.

The event featured two roundtable sessions where experts involved in policy making at national and provincial levels suggested ways to ensure resilience against climate change.

Published in The Express Tribune, January 16th, 2016.