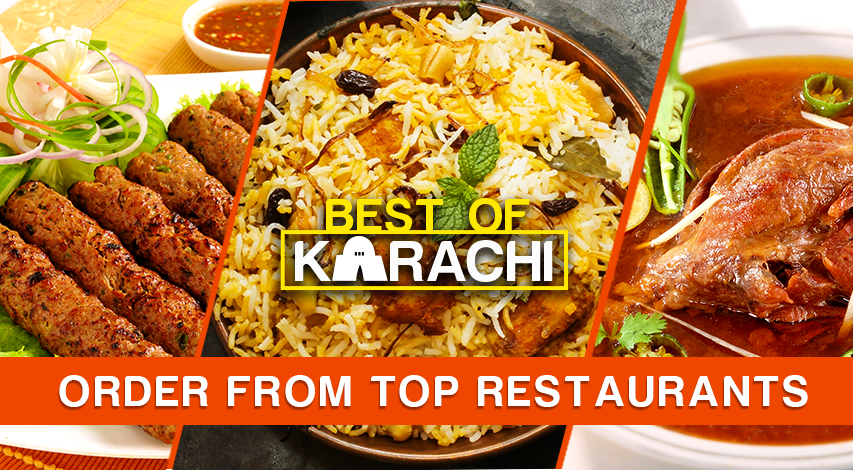 ---
It's 5:59 pm and you've had a long day at work. Your tummy is grumbling and as soon as the clock strikes 6pm, all you want to do is push the peddle to the metal and go home. But as a Karachiite, you know that rush hour will consume most of your energy. Traffic is horrendous and you know getting from point A to point B will be a task and a half.

Every major road in the city is clogged.

With that rumble in your tumble, and the lethargy that follows after a long day of work, you know you will be too tired to go home and make something for yourself to eat, and road rage won't allow you to drive to a restaurant across the city to fulfil your cravings. Besides, you're not even sure of what you want to eat yet.

What do you do?

Well, worry not because Best of Karachi has you covered. This much-awaited series has released its first episode featuring members from SWOT's Guide for Karachi restaurants, who sit down in an attempt to remind us of the perks we ought to enjoy being Foodpanda customers.

This episode is a delicious treat for sore eyes. With Ali Gul Pir and Anoushay Abbasi injecting humour at the helm, and the SWOT members discussing the most satiable biryani in town, you know you are in safe hands. From Biryani Of The Seas all the way to Jeddah Biryani, this group of energetic foodies have covered everything you need to know about the most scrumptious plates of biryani in Karachi.

SWOT Admin, Dr Nezihe Hussain, says,

"I have always had a great relationship with Foodpanda. They have taken the orders correctly and delivery of the food has been faultless. The best part of this gastronomic feast was we got to taste the same food from different places as a result was able to compare."



With conveniences, and exclusive discounts for Foodpanda customers, Best Of Karachi has evidently changed the dynamics of what we know as conventional 'dining out'. With ease of payment varying from online-payment to cash-on-delivery, there is absolutely no competing with these guys.

Omair Bakhsh, Foodpanda marketing manager, further shares the idea behind Best Of Karachi series and explains how convenience has been a deciding factor:

"A massive pool of desi gems in Karachi are still undiscovered by the people on either side of bridge mainly because they resort to ordering from eateries that are popular in their locality or mostly because it is inconvenient to regularly travel long distances to try out new dining options. Plus, the prevailing traffic conditions of Karachi, it would be a smarter choice to remain indoors when foodpanda.pk can bring home exactly the same dining experience. Best of Karachi tends to do that by presenting new desi eateries to order from, in a very entertaining manner."

All you need now is the Foodpanda mobile app to get started and satiate that craving!

Rumours have it that the next episode on Best of Karachi will highlight all the most appealing restaurants in the city for kababs and nihari. Our votes go to Chullo Kebab, Zameer Ansari and Sabir Nihari – but let's see what mouth-watering treats the next episode has to reveal. The anticipation is unbearable!



With everything under one (Foodpanda portal) roof, all you need to do is click here to review menus of restaurants and keep your smartphones ready for the next entertainment scoop.

About Foodpanda Pakistan

Foodpanda is Pakistan's leading online food delivery marketplace that offers a convenient platform for customers to order food online through its mobile app and website. With 1000+ local and international food chains on-board, foodpanda.pk, currently offers its services in Karachi, Islamabad, Lahore, Rawalpindi, Peshawar and other cities. Foodpanda, together with its affiliated brand hellofood, is active in more than 39 countries on five continents. Foodpanda's mobile app is available for download on the Google Play Store, the App Store and the Windows Store.
COMMENTS (3)
Comments are moderated and generally will be posted if they are on-topic and not abusive.
For more information, please see our Comments FAQ