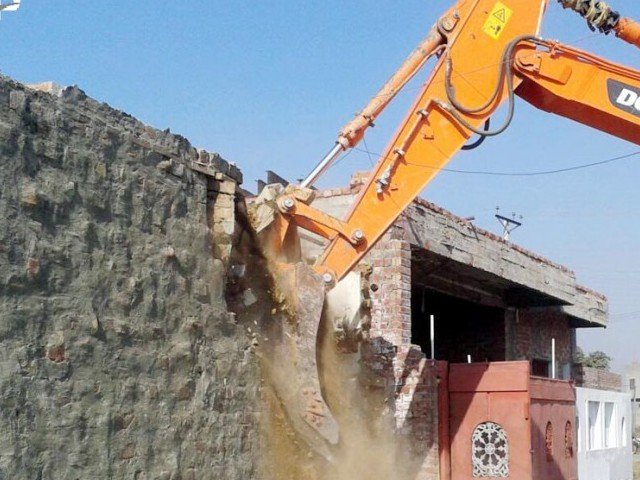 ---
SUKKUR: An anti-encroachment drive in Mirpur Mathelo has sparked anger among residents, who are blaming politicians, landowners, and government officials of discriminating against the poor. However, authorities claim the operation is being conducted impartially.

The anti-encroachment drive began in all four districts of Sukkur division - Sukkur, Ghotki, Khairpur and Naushero Feroze - last month.

Led by Ghotki deputy commissioner Tahir Watoo and others, the anti-encroachment team, with the help of heavy machinery and a large contingent of police and Rangers personnel, demolished several shops, houses and other establishments constructed illegally on irrigation, municipal and revenue land. Encroachments were demolished in different areas including Magsi Chowk, near the NADRA office, Rangers Colony, Old Bus Stop, near the graveyard, Ghanta Ghar Chowk, Bhittai Chowk, City Road, and Maso Wah Road.

According to reports, the anti-encroachment team also demolished illegally constructed lawyers' offices, during which heated arguments took place between the lawyers and the officials. Social activist and lawyer Muhammad Murad Lund, talking to The Express Tribune on the telephone, strongly condemned the district administration's action and said, "The anti-encroachment drive is being carried out against poor and helpless people, while buildings constructed by influential persons have been left standing".

"After encroaching on the land, these [influential] people sell those properties to the poor and helpless people," he alleged, adding that the government always springs into action against the poor but no action is taken against its own officials involved in illegally leasing out land after accepting bribes. "I am not against the anti-encroachment drive as it is aimed at clearing illegally constructed buildings, but it should be across the board," Lund clarified.




Sukkur commissioner Muhammad Abbas Baloch told The Express Tribune the operation is being carried out throughout the division without any discrimination. "All encroachments constructed on both sides of the National Highway from Kamoon Shaheed, in district Ghotki, to Halani, in district Naushero Feroze, are being removed," he explained. Besides, encroachments in cities are also being removed to ease traffic jams. "It is only natural that the affected persons will complain and level allegations against the government but I want to make it clear that the operation is being done across the board and in the larger interest of citizens," he added.

Last month, the railway authorities had started an anti-encroachment campaign and demolished some houses and shops, constructed illegally on railway land but the operation was suspended after locals put up resistance.

Published in The Express Tribune, January 11th, 2016.