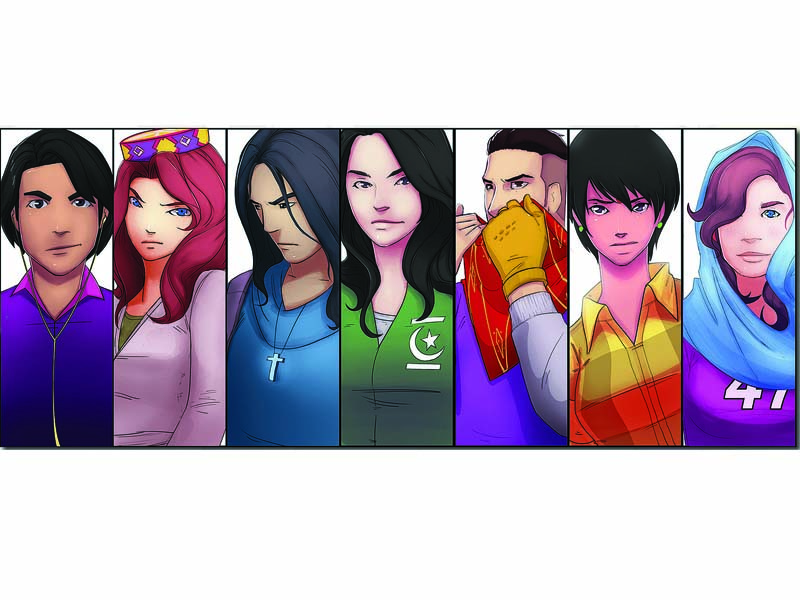 ---
Boys can cook and ride motorbikes, while girls can dance and play football, and they can belong to any religion or ethnic background; it's all possible in Team Muhafiz — a series of comic books, carrying social messages for young, impressionable adults.

The comic is based on the fictional story of eight teenagers — four girls and four boys. Their aim is to fight the wrongs of society with a superpower unlike those featured in most superhero comics, one that is available to all but exercised by a few: acceptance and the will to bring about a positive change in society. Imran Azhar, the CEO of Azcorp Entertainment and the brains behind the project, says, "The idea is to engage the leaders of tomorrow today and to redefine villains as mere mortals amongst us. Make them (villains) people who can be dealt with without any super powers." The comics, produced in both Urdu and English, look to educate the younger population about social issues and problems, such as illegal cutting of trees or child marriages, which plague our society.




The most recent installment of the comic, Team Muhafiz and the Child Raiders, deals with the controversial topic of child marriage. In Pakistan, instances of child marriage are not uncommon and educating children about it is necessary. The volume is co-written by Samar Minallah Khan, who shares her experience and says, "Imran shared the comic books with me and I instantly agreed to be part of this venture. It's new and innovative. We need to think of new strategies to break the silence around issues like child marriages, acid crimes, etcetera. This comic book is going to help change the mindsets of the youth. In the long run, it can be used as a tool for advocacy in schools all over Pakistan."A comic book geek himself, Azhar decided to give the venture a shot when he moved back to Pakistan after spending a number of years in the hospitality industry abroad. "When I came back, I was set upon providing meaningful entertainment to our young adults," he says. Azhar first hired Roy Soumyadipta, an art and animation graduate from India, to work remotely on the venture. Taking to The Express Tribune, Soumyadipta says, "During my school and college days, we had students from different cultures and nationalities amongst us. Petty fights and arguments stopped us from breaking the ice. Team Muhafiz is a group of young people from varying cultures working together to guide young minds," he continues. "I really wish we had something like this back in our time. I felt like I could use my little drawing skills to illustrate these stories and perhaps be a part of that 'something' for today's generation." Additionally, Babrus Khan, the comic's illustrator, says, "When you're a young artist in Pakistan and you get a phone call asking you if you'd be interested in drawing comics, you are bound to say yes. The same happened with me and I have loved every moment of this experience."

The response to the comic has been overwhelming, with a new outreach programme in full swing, the comic is becoming popular amongst young adults and school-going children. "The Comic Cons here in Pakistan have really given us an insight into the minds of young adults. It is amazing when they come to our booth and say they'd want to cosplay one of our characters in the future," says Khan, recalling their time at a recent Comic Con in Islamabad. "Most kids already had our volumes and came to get them signed," Azhar pitches in.




According to Azhar, Team Muhafiz received a warm welcome at a recent Comic Con in Dubai, and plans to collaborate with a local university there to translate the comic books in Arabic. The comic has also found an audience in India. "The most common feedback [we have gotten] is that they really encourage the motif behind the story. The idea of unity and how we can 'stand stronger when united' is being highly appreciated," says Soumyadipta.With a good response from fans in Pakistan and generally applicable social justice messages for young adults, the question of publishing in other countries comes to mind. Azhar thinks along similar lines. "These issues we tap into are not just Pakistan's issues; they exist globally and it would be a good idea to show the world that they can be tackled." It will also help depict a positive image of Pakistan, he adds.

All good on the print side of things, the team also plans to launch a series of action figurines for their young fans to collect, along with a mobile/tablet app for those who prefer to read the comic online. With just a handful of comics coming out of Pakistan, Team Muhafiz is a welcome page in history.


Hurmat Majid is a subeditor at The Express Tribune.
She tweets @bhandprogramme


Published in The Express Tribune, Sunday Magazine, January 10th, 2016.