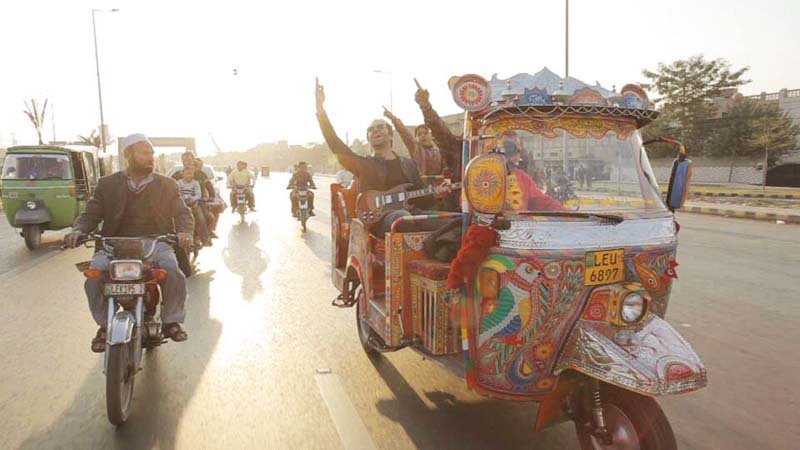 ---
LAHORE:



Of late, the music industry has somewhat shifted its attention from issues pertaining to the society. Luckily, there are those for whom playing for entertainment alone defies their true calling.




By that definition, Overload's latest single, Lahore, is a protest song. It encapsulates the concerns reverberating with the city's children who have been left unnerved with the constant moving in and out of bulldozers and road rollers. For the dwellers of the city, its historical sites define their connect with the land they prize the most.

Talking to The Express Tribune, band frontman Farhad Humayun said, "This is a very recent song that I did. Usually I have stuff lying around for years but this wasn't one of those." The outspoken musician has not particularly been involved in activism of any kind so this theme was a first for the band. "My mother Navid Shahzad and my grandfather were both very vocal so people assume I would be too," he said.

However, he stated his way of putting his views out is a little different. "I prefer to do it through music."

Overload's new song highlights Lahore's historical monument

Since this is the medium Humayun is most comfortable with, he avoids partaking in the various events that he is invited to. "I never wanted to attach my name to that of an organisation or NGO that has another agenda altogether."

One wonders whether songs like these really have an effect on policies and mindsets at the end of the day. "On its own it can't. But a song can provoke thought. Music is expression and when we voice our opinion, other people often resonate with it and come forward. Otherwise they'd be afraid to do so," the drummer-vocalist said.




Humayun feels protest music has the power to make people realise that they are not alone in their ideas and beliefs. "It can create a sense of community, which allows individuals to organise themselves and bring about change."

People have started responding to the music and lyrics and they are beginning to see the underlying message too, he shared. A quick glance across Overload's Facebook page explains the statement, wherein many are echoing Humayun's protest.

Farhad Humayun walks out of 'Ho Mann Jahaan' premiere

The harm to historical sites at the cost of urban development has long been causing uproar in the provincial capital and this is the first artistic response to it. "In the writing stage, I wanted to enforce the idea of identity which I did through palm trees because they are very Arab and belong in the desert."

He wrote the song with Tahir Shaheer, a well-known Urdu poet. Humayun also revealed that vocals have been distorted as he screams into a loudspeaker like "an announcement from a mosque". I wanted to add character to the song and make it more authentic, he stated. "Before this, I did two ballads that were soulful and heavy so people were expecting we would continue with that."

Brunch surprise: Uplifting spirits, 'Overload' style

When asked whether social awareness has now become a mainstay with the Overload philosophy he referred to the Ho Mann Jahaan premiere incident where he walked out over mistreatment at the hands of the organisers. "I want to write a song about VIP culture after the cinema incident but I don't plan on becoming a protest musician. That requires a lot of anger, resentment and bitterness."

Published in The Express Tribune, January 2nd, 2016.

Like Life & Style on Facebook, follow @ETLifeandStyle on Twitter for the latest in fashion, gossip and entertainment.