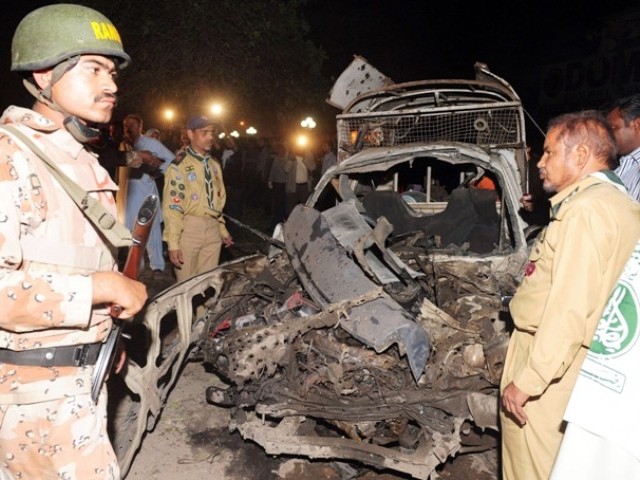 ---
ISLAMABAD:



A top official in the federal government has claimed that an online data bank of victims of terror is being compiled amid a ruling party move to provide monthly compensation to the heirs of slain victims.




At the same time, a lawmaker from the ruling party is all set to introduce in the Senate today a resolution calling for provision of monthly financial compensation to the families of such victims.

APS attack anniversary: A tribute to the victims

Interior Minister Chaudhry Nisar Ali Khan confirmed the development regarding the web portal and said the data bank will document all those who become victims of terrorism during the last 12 years. He said work on the web portal for missing persons and unidentified bodies was also under way.

As per the Senate agenda for Monday, Senator Nisar Muhammad of the ruling Pakistan Muslim League-Nawaz (PML-N) will move a resolution, which cites the sorry state of families of those killed in terror incidents.

"The house recommends that the government should evolve a mechanism to take care of the said families and provide them reasonable financial assistance on monthly basis to enable them to meet their needs of daily life and lead respectable lives," the resolution says.

A senior official of the interior ministry said there is no consolidated or uniform criterion to pay compensation to families of the deceased or the injured. He said Afghanistan has a ministry dedicated to addressing issues of women and compensation for families of those martyred and war-disabled.

"However, Pakistan is still grappling to devise a mechanism and form a central department or ministry to officially document the number of martyrs and injured," he added. The official said successive government could not evolve any uniform mechanism to compensate such victims and it is the first time that the government is going to devise a plan on this.

Until a couple of years ago, the political and military leadership claimed Pakistan had lost 50,000 lives in the ongoing conflict. However, most observers believe the number of victims is much higher.

During the today's session, the upper house will also discuss Senator Sehar Kamran's resolution to discuss the present status of implementation of the National Action Plan against terrorism. The ruling party's Senator Muhammad Javed Abbasi will move a separate resolution to discuss the issue of human trafficking from Pakistan to overseas countries.

Honouring the victims: Artists pay homage to victims of terrorism

Pakistan Peoples Party's Senator Farhatullah Babar will move a motion on the procedure for appointment of chairman and members of the Federal Services Tribunal (FST) and Pakistan Tehreek-e-Insaf's Senator Mohammad Azam Khan Swati will seek his colleagues' attention towards the present position of circular debt and its overall impact on the smooth supply of electricity to consumers in the country.

Published in The Express Tribune, December 28th, 2015.