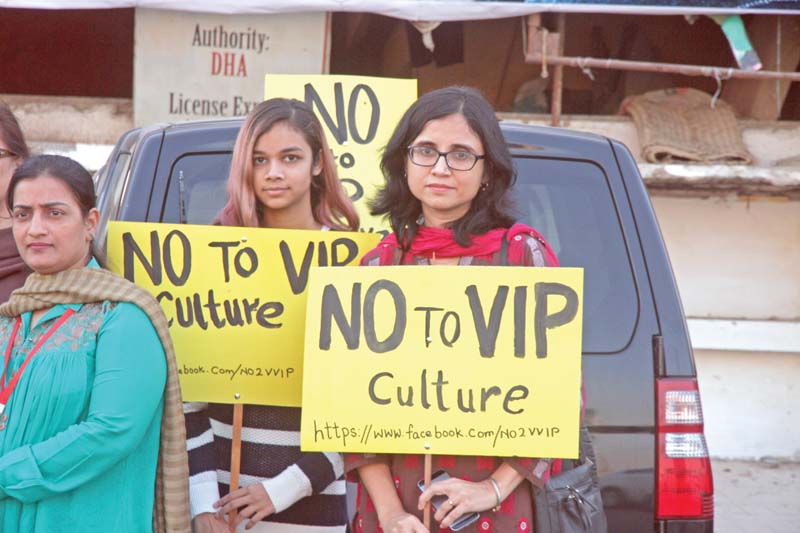 ---
KARACHI:



Activists gathered at Sea View on Sunday to raise awareness for the 'No to VIP' campaign and distributed stickers among passersby. Members of the civil society and a large number of citizens of Karachi participated in the event.




The aim of the organisers was to create awareness among citizens of Karachi and beyond to encourage people to come together and stand against 'VIP culture'.

Members of the civil society held placards and distributed bumper and windscreen stickers on the traffic signal outside McDonald's.

Infant dies as Bilawal's security prevents family from entering hospital

Afia Salam, a freelance journalist, and one of the organisers, told The Express Tribune that it is an informal forum which was started a few days ago when concerned citizens connected on Whatsapp and decided to do something.

She said that a Facebook page and a Twitter account titled "No to VIP Culture" have also been made to reach out to the public. She clarified that they are not against senior government officials being provided security and protocol, but are against the abuse of that protocol.




Salam explained that government rules clearly mention who is entitled to how much security protocol but everyone abuses the law. She said there is no reason to block roads for ambulances and school vans. "We know some people have genuine threats against them but that does not mean the larger public has to suffer," she said.

Bold plan: K-P won't stop traffic for PM's motorcade, says Imran

The campaign's organisers want to spread the movement further so as to gain momentum so people may start discouraging VIP culture around them.

Naeem Sadiq, a researcher and member of the Citizens Against Weapons forum, said VIP culture has become a norm and the state has encouraged it for years now.

He said at airports, parliamentarian counters are also one of the examples of VIP culture.

According to Article 25 of the Constitution, all citizens are equal before the law and are entitled to equal protection of law, he said, adding that rulers of the country have promoted VIP culture to increase the gap between them and the citizens.

Activist Jibran Nasir said we should ensure the protection and well-being of all citizens rather than a handful VIPs'. He said, "Constant and strategic placement of positive messaging about citizen's rights goes a long way towards awareness and empowerment. The current security structure where personalities are provided safety over cities exhibits short sighted, self-serving and narcissistic politics." He further clarified that they are not against the necessary security for top officials but that does not mean the state should increase the suffering of citizens.

The latest movement against VIP culture was ignited after the death of 10-month-old Bisma in Karachi last week due to Bilawal Bhutto Zardari's security protocol.

The baby girl, suffering from measles and a high fever, died on Wednesday after her father was unable to enter Civil hospital due to security measures in place for the Pakistan Peoples Party chairperson, who was inaugurating a trauma centre there.

The incident, and the provincial government's initial response, sparked outrage among the public across the country and led to severe criticism from human rights activists, and opposition parties.

After the tragic incident, Imran Khan, chairman of the Pakistan Tehreek-e-Insaf, also announced an end to stopping traffic as part of VIP protocol in Khyber-Pakhtunkhwa.

Published in The Express Tribune, December 28th, 2015.