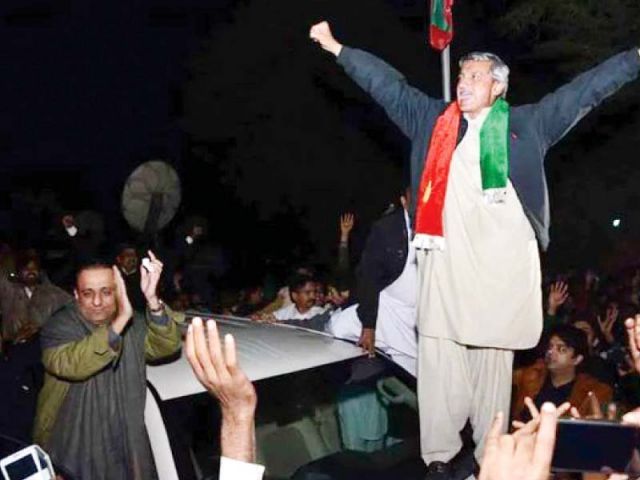 ---
LAHORE: Political adviser to Pakistan Tehreek-i-Insaf (PTI) chairman Abdul Aleem Khan said on Thursday that Jehangir Tareen's victory in the Lodhran by-election had vindicated the party's stance on electoral malpractice in the 2013 general elections.

Unofficial results suggested that the PTI general secretary had garnered 43,000 more votes than the Pakistan Muslim League-Nawaz's (PML-N's) Siddique Baloch in Wednesday's by-election. The party had termed its victory as a watershed in its fight for justice.

Provincial party leaders including Punjab organiser Chaudhry Muhammad Sarwar, Khan, political adviser to PTI chairman Ejaz Chaudhry and central leaders like PTI vice chairman Shah Mehmood Qureshi had camped in Lodhran during the run up to the hotly-contested polls.   Khan, who had been accompanying Tareen over the course of his electoral campaign and on election day said the victory indicated a shift towards the very change that the party had long been struggling for.

"Our victory in Lodhran is a declaration by the people on how traditional politics will not be tolerated in the nation any longer," he said. Khan said that PTI's longstanding stance on electoral malpractice in the 2013 general elections had been vindicated.  Drawing parallels between the by-elections in NA-122 and NA-154, Khan said the PTI would have also emerged victorious in Lahore had the PML-N desisted from transferring votes in NA-122. The by-polls had resulted in the victory of National Assembly Speaker Sardar Ayaz Sadiq, who was later re-elected to the position. Khan said the ruling party had tried to influence the elections in Lodhran as well but PTI workers had managed to foil its attempts.  Recently elected MPA from PP-147 Shoaib Siddiqi said the party's stance on electoral malpractice was fast gaining credence. "A government that ascended to power following a rigged election has no right to rule," he said.

Felicitating party leaders in connection with the Lodhran victory, Chaudhry said the time was ripe for the PML-N to relinquish power.

Published in The Express Tribune, December 25th, 2015.