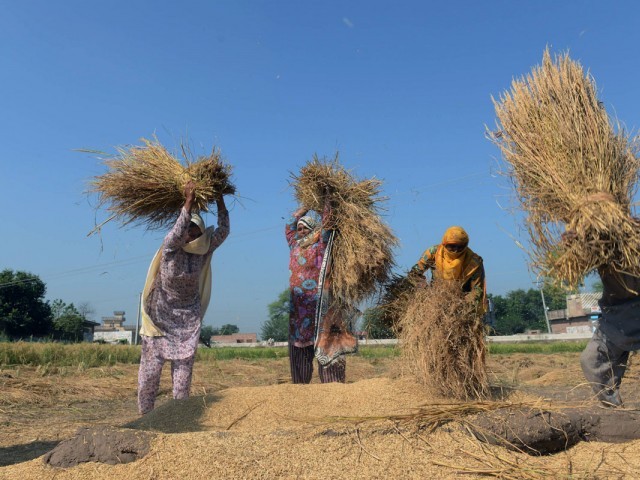 ---
LAHORE:



Speakers at a conference held to mark the National Working Women's Day on Tuesday noted that women's contribution to the country's economy was no longer limited to a few sectors.




They said large numbers of women were now entering professions long considered suitable for men only. These included the armed forces, the police and the media, they said.

Levelling the playing field: Female government job quota to be increased to 7%

The speakers said women outnumbered men in home-based and informal sector work, including labor-intensive jobs like cultivation and livestock management.

Alongside the expansion in working opportunities for women, there had been no improvement in the disparity between wages paid to women and men for same work, they lamented. They said there were instances where for the same job women were paid less than half the wages men got.

They said other important issues faced by working women were gender-based discrimination and sexual harassment.

Provicnial Ombudsperson Farkhanda Wasim Afzal said her office was working with employers to ensure safe working environment for women. She urged women in the audience to not shy away from bringing genuine complaints to her office. She said the complainants should get in touch with her if prompt action was not taken by her staff on their complaints. The ombudsperson said the use of the term housewife should be discouraged. Women who stayed at home should be identified as home makers, she said. She said there could be no development of the society without women's contribution.

Aurat Foundation resident director Mumtaz Mughal stressed the need for increasing women's representation in public decision-making forums. She said lack of adequate public transport facilities was keeping women from benefiting from working opportunities.

Women empowerment requires self-reliance, says Shahbaz

Women In Struggle for Empowerment (WISE) executive director Bushra Khaliq highlighted the lack of enforcement of pro-women policies. She said poor budgetary allocations for issues that concerned women showed that the government lacked political will to enforce these policies. She said there was a need to push the government to increase budgetary allocations for its pro-women programmes.

Pakistan Tehrik-i-Insaf MPA Sadia Sohail said women were good at management of finances and maintaining public relations and in parliamentary politics. She said efforts to bring down corruption in the society could not be successful without women's participation.

The conference was organised jointly by the Ombudsperson's office, the WISE, the AWAZ Accountability Programme at the auditorium of the Lahore of Commerce and Industry (LCCI).

Other speakers were Lubna Mansoor from the Ministry of Human Rights, Ruqiaya Bano of the Rescue 1122, Syeda Ghulam Fatima of the Bonded Labour Liberation Front, Salman Abid of the Strengthening Participatory Organisation, journalist Fakhara Tehreem and Operations SP Ammara Athar.

Published in The Express Tribune, December 23rd, 2015.
COMMENTS
Comments are moderated and generally will be posted if they are on-topic and not abusive.
For more information, please see our Comments FAQ