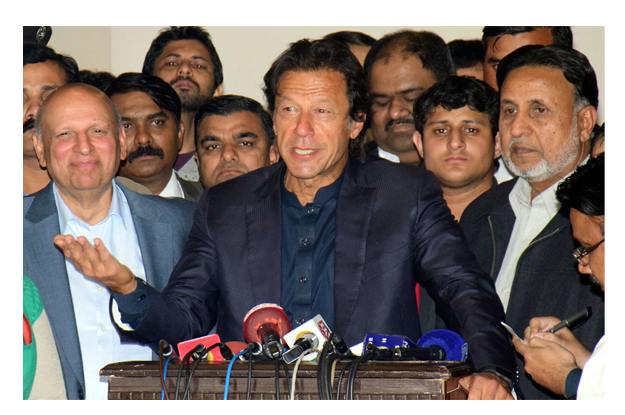 ---
LAHORE:



Pakistan Tehrik-i-Insaf chairman Imran Khan said on Friday that his party would reach out to other opposition parties in the province to form a united opposition against the Pakistan Muslim League-Nawaz (PML-N) government.




He said the party would hold talks with the Pakistan Peoples Party and the Pakistan Muslim League-Quaid-i-Azam (PML-Q). He said a strategy would soon be finalised for the purpose.

He was speaking to the media after a meeting with the PTI's provincial assembly members (MPAs).

The PTI has 31 MPAs in the Punjab Assembly. With 310 MPAs, the PML-N enjoys an overwhelming majority in the house.

Khan criticised the ruling party for not paying attention to the affairs at the Punjab Assembly. He said concerns raised by the opposition in the Punjab Assembly were ignored by the government.

"The PML-N cannot be allowed to suppress the voice of the opposition just because it enjoys a majority in the House," he said.

"We have decided that we will not let them [the ruling party] take the opposition lightly," he said. Khan urged his party's MPAs to not let the government off the hook easily.

He said the PML-N government was not running the province in accordance with democratic principles. He said the PTI would take to the street if the government failed to come up with satisfactory responses to questions raised by the opposition during assembly sessions.

Khan praised candidates who had contested the local government elections on his party's ticket and said that they had stood firm in the face of harassment by the provincial government. He said 13 PTI workers had lost their lives in clashes ahead of the elections. False cases were registered against many workers, he said.

Khan also criticised the government for wasting public money on projects like the Orange Line Metro Train and on security arrangements for the Sharif brothers.

Earlier, Khan said that he would convene a meeting of party's parliamentarians after every three months. The meeting was also attended by Leader of Opposition in the Punjab Assembly Mehmoodur Rasheed and PTI Punjab organiser Chaudhry Sarwar.

Khan also attended Namal College's convocation and a party event to celebrate Christmas during his visit to the city on Friday.

Published in The Express Tribune, December 19th, 2015.
COMMENTS
Comments are moderated and generally will be posted if they are on-topic and not abusive.
For more information, please see our Comments FAQ