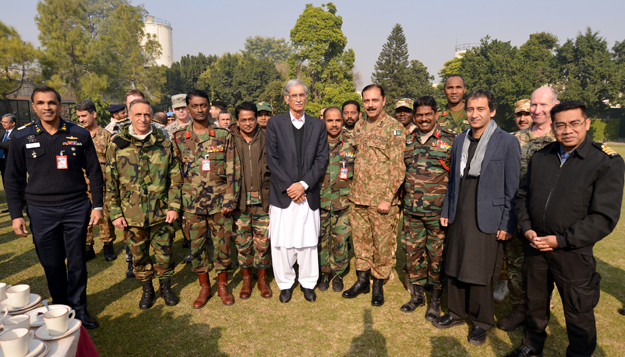 ---
PESHAWAR: Although a huge number of Afghan refugees was burdening the social and economic structure of the province, the K-P government was treating them as "guests". This was stated in a handout issued by the CM Secretariat on Friday. According to the document, Chief Minister Pervez Khattak was meeting students and faculty of the National Defence University at the CM House.

He added the government was not in favor of forced repatriation of the refugees. "We want peace in Afghanistan so that refugees can return to their homeland."

Khattak was meeting the students to discuss initiatives taken by the provincial government to enhance security in the region.

While appreciating the provincial government's performance, one of the chief instructors, Major General Najamul Hassan, said policies employed by the K-P government are an example of good governance for others to follow.

About the issue of merging the Federally Administered Tribal Areas with K-P, the CM said government would fully support the decision taken by tribespeople. "We must let them choose whether or not they want to join K-P," he added.

Khattak also stuck to his clear stance on the Kalabagh Dam issue and expressed his apprehension. He said not only would the whole Peshawar division sink, but the entire province would also suffer if the dam is built. "Even Wapda cannot convince us to agree to the construction of Kalabagh Dam," he said.




To another question, the CM said peace had been restored in the militancy-hit Malakand Division. "However, the government will take rehabilitation measures as soon as the Pakistan Army returns from the area," he added.

Furthermore, he told the audience that in addition to the Chief Minister Complaint Cell, all accountability and anti-corruption institutions were working in their respective domains.

He said corrupt elements were frustrated by the stringent accountability and anti-corruption measures as well as transparent governance system introduced by the present K-P government.

Khattak said the lowest tier of local governments i.e. villages and neighborhood councils were made more powerful than tehsil and district councils.

"For the first time in the history of the country, 30% of provincial development funds were allocated for the local governments," he added. The distribution of funds among local bodies was being made by an independent Provincial Finance Commission formed with representation from treasury and opposition members, Khattak said.

Responding to certain questions, Minister for Elementary and Secondary Education Muhammad Atif Khan said concentrated efforts are being made to enroll out-of-school children. He added more than 1,000 community schools for girls were being made operational in K-P.

Atif added the education of women was a top priority of the province's education promotion strategy. "Financial incentives are also being granted to attract and facilitate education for girls and women," Atif added.

Published in The Express Tribune, December 19th, 2015.
COMMENTS
Comments are moderated and generally will be posted if they are on-topic and not abusive.
For more information, please see our Comments FAQ