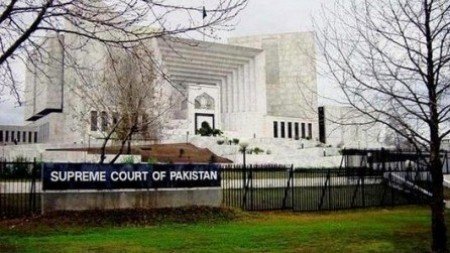 ---
ISLAMABAD: A large bench of the Supreme Court issued a short verdict on the maintainability of intra-court appeals filed by 10 PCO judges, including former chief justice Abdul Hameed Dogar, against contempt notices served on them by the Registrar's Office.

The apex court will formally take up the petitions for hearing on May 3. The contempt notices were issued after the Supreme Court's judgment of July 31. The five-member bench, headed by Justice Nasirul Mulk and comprising Justice Raja Fayyaz Ahmed, Justice Jawwad S Khawja, Justice Rahmat Hussain Jafferi and Justice Tariq Pervez, announced the verdict while rejecting objections raised by the Registrar's Office. On Thursday, the bench had reserved its verdict on the maintainability of appeals after hearing arguments of Dr Abdul Basit, the counsel for the PCO judges.

On Nov 2, 2007 Barrister Aitzaz Ahsan had submitted an application asking the Supreme Court to restrain the government from imposing "martial law". A seven-member bench of the apex court, headed by Chief Justice Iftikhar Muhammad Chaudhry, and comprising Justice Rana Bhagwandas, Justice Javed Iqbal, Justice Mian Shakirullah Jan, Justice Nasirul Mulk, Justice Raja Fayyaz, and Justice Ghulam Rabbani, had issued a stay order on Nov 3, 2007 against the imposition of emergency, and restrained the judges of the Supreme Court, Federal Shariat Court and high courts from taking oath under the Provisional Constitutional Order (PCO).

Justice Abdul Hameed Dogar and other like-minded judges not only took oath under the PCO, but also validated the imposition of emergency and the promulgation of the PCO. This full-court judgment was written by former chief justice Abdul Hameed Dogar and was co-signed by Justice Ijazul Hassan, Justice Muhammad Qaim Jan Khan, Justice Mohammad Moosa K Leghari, Justice Chaudhry Ejaz Yousaf, Justice Muhammad Akhtar Shabbir and Justice Zia Perwez.

On July 31, 2009, the Supreme Court had declared steps taken on Nov 3, 2007 by former president Pervez Musharraf "illegal and unconstitutional" under Article 279 of the Constitution. The judgment came after the 14-judge larger bench headed by Chief Justice Iftikhar Muhammad Chaudhry had completed the hearing of constitutional petitions regarding the PCO judges, appointments of judges in the superior judiciary and steps taken under the PCO.

After the judgment of July 31, the PCO judges were issued contempt of court notices for not obeying the Supreme Court's restraining orders, and taking oaths under the PCO. However, at least 45 judges tendered unconditional apologies for taking oaths, but the rest of them, including exchief justice Abdul Hameed Dogar, decided to contest the notices issued to them.
COMMENTS
Comments are moderated and generally will be posted if they are on-topic and not abusive.
For more information, please see our Comments FAQ