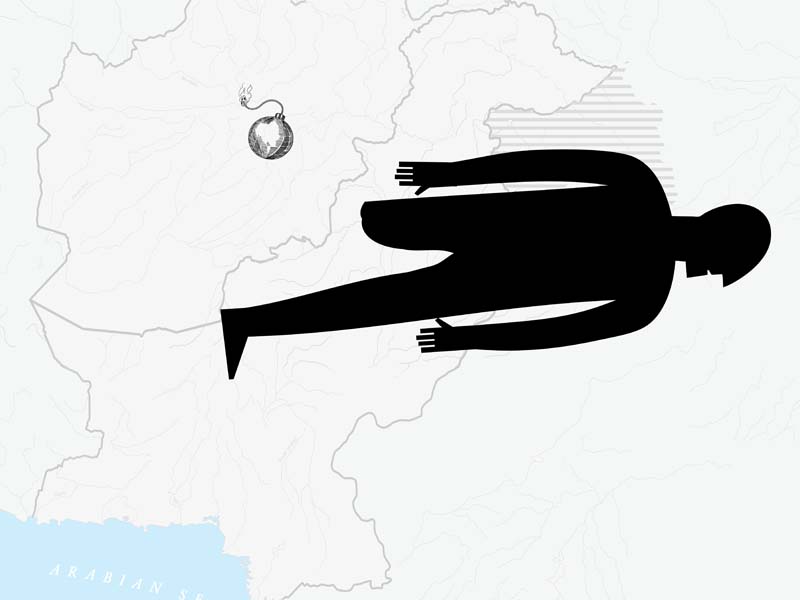 ---
For decades, both Pakistan and Afghanistan have remained in the eye of an ugly storm. The two war-torn countries have lost innumerable lives to senseless violence in the name of religion, foreign occupation and the right to self-determination. The recent anniversary of the Army Public School attack in Peshawar is a grave reminder of what Pakistan has lost. Neighbouring Afghanistan, too, faces similar challenges of militancy, displaced persons and corruption. And there are some lessons to learn from our Western neighbours.

Value for life

Afghanistan has a ministry dedicated to addressing issues of women, justice and compensation for families of those  martyred and war-disabled. Additionally, international bodies claim 80% of the manipulated areas in Afghanistan have been cleared of landmines left behind after the Soviet war and subsequent fighting. One can also spot billboards declaring, 'We want a mine-free Afghanistan' across the country. Even locals are being trained to help security personnel clear landmine-infested areas.




Former interior minister, MNA Aftab Ahmad Sherpao, says Islamabad should learn some lessons from Kabul. "We are facing the same situation. Terrorism knows no borders," he tells The Express Tribune. Another top government official claimed that when it comes to compensation the government tends to discriminate against victims of terrorism. "There is no coherence. It depends entirely on the announcement of the prime minister or chief ministers, [and is decided] on an incident to incident basis."On the other hand, Pakistan is still grappling to devise a mechanism and form a central department or ministry to officially document the number of martyrs and war-disabled. There is no consolidated or uniform criterion to pay compensation to families of the deceased or injured either, admits a senior official of the interior ministry.

The federal government of Pakistan relies on data from the four provinces and political agents or forces fighting terrorism in the Federally Administered Tribal Areas (Fata). Until a couple of years ago, the political and military leadership claimed Pakistan had lost 50,000 lives in the ongoing conflict. However, most believe this number to be much higher.




The ministry, however, does not compensate chronic cases. Iftikhari says if a person was martyred or disabled during the '80s or '90s it means someone in their family is now a breadwinner. This is why the ministry is handing out compensation for recent cases only.In stark contrast, Kabul established the Ministry of Labour, Social Affairs, Martyrs and Disabled (MOLSAMD) following the intervention of allied forces after the 9/11 attacks in the United States in 2001. In 2003, the ministry adopted a policy that defines a formula to pay compensation to the war-affected, families of martyrs and Afghan army. The ministry's spokesperson Ali Iftikhari says a committee of the health ministry verifies claims of families to determine if someone is martyred or disabled in conflict. If a deceased person was in government service at the time of the incident, his or her family will be paid the same salary as before. In the case of a civilian, the affected person is entitled to 35% of the salary of a grade-eight government employee, around AFN6,000.

Victims of conflict who are compensated by the ministry are also trained by officials to contribute in the upliftment of affected illiterate people. Sardar Wakeel is one such example. He was injured in Kabul around two years ago and subsequently compensated by the Afghan government. He is now busy helping out in training programmes for the disabled to impart skills which would help them make a respectable living. Wakeel says many workshops and short courses are arranged to teach people how to run small businesses.

Concerns over the compensation, however, still linger. Afghanistan Research and Evaluation Unit Deputy Director Mir Ahmad Joyenda says corruption is hampering welfare operations. According to him, at least 70,000 claims are bogus. In addition, many of those affected by conflict are illiterate, unemployed or lack access to basic healthcare. Coupled with a fragile economic base, this restricts the government from reaching out to victims who the ministry has no access to. Those Afghans who have relocated to Pakistan are also at a loss to claim compensation and are now staging protests in Islamabad to have their voice heard. The lack of a standard mechanism to identify the level of disability is another major factor in responding to legitimate demands.




"One of my brothers who had three children was martyred while another brother who has seven children was paralysed by a magnetic mine. No one did anything for them," says Ahmad Nazir from Ghazni, Afghanistan. "Now, my third brother has lost his hands. The police did not call, nor did any from the interior ministry pay a visit."

Similarly, 60-year-old Muhammad Taqi lost both his legs in a recent incident. He claims the government does not provide timely compensation, forcing many to wait endlessly. Taqi says he visits the ministry nearly every day to check the status of his arrears. As a result, he has now lost faith in the government. "I've started a small business selling prepaid cards of cellular service providers. I use my 'special motorbike' for mobility."

Yet, despite all its shortcomings, Afghanistan is making a concerted effort to overcome these problems. This is apparent in President Ashraf Ghani's realisation to set things right. He confessed during a meeting with the ministry's officials that "though a significant amount of money has been allocated to the ministry, disabled and families of martyrs are still not satisfied with MOLSAMD's service delivery, and no fundamental reforms have been brought to this ministry." During the session, President Ghani termed MOLSAMD as the key ministry, responsible for ensuring social security in Afghanistan.

Minister of Labour, Social Affairs, Martyrs and Disabled, Dr Nasrin Oryakhil has taken stock of these concerns. Oryakhil said she will review and reform the informal system through which payments and other entitlements are made, along with streamlining the process of identifying the level of disability. The minister has also vowed to finalise the process of pension payments through banks across the country. She added MOLSAMD will use the databases of the interior and education ministries for the purpose, adding the use of biometric systems before issuing pension and entitlement cards will prevent abuse and fraud. To prevent overlapping of duties and duplication of efforts, the minister said she will coordinate with charity organisations, donors and government entities.

Unexploded remnants of war

Kabul set a target in 2013 to clear the remaining 20% of landmines in manipulated areas by 2023. According to a survey conducted by Handicap International, which is campaigning on behalf of people living with disabilities, one in five households of Afghanistan has a disabled person. Besides continued militancy and conflict, landmines are one of the major factors contributing to loss of human lives. Iftikhari says Kabul, Badakhshan, Herat, the southern region of Helmand and Kandahar are the most affected areas, adding they have several joint programmes to eradicate landmines.




Chief of Staff at the Mine Action Coordination Centre of Afghanistan, Engineer Muhammad Wakeel, says Afghanistan was heavily mined during the Soviet occupation from 1979-89. They then started a programme to clear the manipulated areas in 2003, but the first 10 years bore no fruit because of incessant violence. The programme was then extended from 2013 to 2023 for another 10 years. "Scarcity of funding and insurgency in different parts of the country made the task of the relevant authorities very difficult," he admits.

Civilians, especially children, are most prone to become victims of landmines, which is why many families are hesitant to return to their native towns. Now, the local population is being trained to clear their respective areas, says Wakeel. "We pulled out our resources from Kunduz because of the ongoing unrest since this is a citizen-based programme."

Pakistan faces a very similar challenge in its tribal belt. There are landmines left over from the Soviet-Afghan war in several parts of Fata. Moreover, militants often plant roadside explosives to target military convoys traversing through the area. Islamabad can take a leaf of Afghanistan's successful endeavour to minimise casualties and clear manipulated areas.

At first glance, Afghanistan seems more battered by conflict than Pakistan. But unless the latter takes some serious steps to stem the violence and compensate victims, it will continue to wallow in the limbo of war.

Azam Khan is an Islamabad-based reporter for The Express Tribune. 

Published in The Express Tribune, Sunday Magazine, December 20th, 2015.