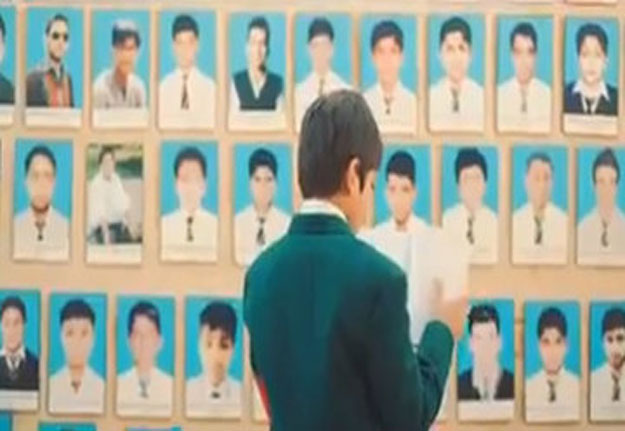 ---
In a hauntingly beautiful song that will give you goosebumps and move you to tears, Pakistan Army has paid tribute to Army Public School massacre victims.

The video, released by the military's media wing Inter Services public relations (ISPR) days before the one year anniversary of the deadliest attack in Pakistan's history, calls for avenging the victims of the deadly massacre by educating the enemy's children.

Peshawar school attack: ISPR honours victims in melodic tribute

Just like the song Bara dushman bana phirta hai, children lend their voice to the song which talks about the importance of the pen and shows the undefeated spirit of the children who are on their way to school.




Mujhey Maa us se badla leney jana hai

Mujhey dushman k bachon ko parhana hai

This verse sends a powerful message that children are not frightened and that they are more determined than ever to end the ignorance that the Taliban are mired in by teaching their children.




No answers for revenge-seeking APS victims' parents

The massacre saw nine extremists scale the walls of an army-run school in Peshawar, lobbing grenades and opening fire on terrified children and teachers, murdering them one by one before being killed by security services.




Four APS militants hanged in Kohat

Watch the video here:



Many took to Twitter in praise of the new song by ISPR:


APS ANNIVERSARY SONG BY ISPR: In Commemoration of the Children of Army Public School Peshawer, " The Children who... https://t.co/lL2EbjyrLg

— CODEEDOC DIGITAL ® (@darsndars) December 14, 2015
The sequel of "Barra Dushman Bana Phirta Hai" has been released by ISPR. "Mjhay Dushman Kay Bachon Ko Parhana Hai." #ہم_نہیں_بھولیں_گے

— She Wolf (@_lareveuse) December 14, 2015
@ISPR_Official @Bilalak80 Thank you for releasing a new song DUSHMAN K BACHON KO PARHANA HE. We can not forget Martyr of APS

— agha mehboob (@MehboobAgha) December 14, 2015


https://twitter.com/arslanrehmanpak/status/676254340533866496

https://twitter.com/shoaibshah01/status/676268507328356353
COMMENTS (14)
Comments are moderated and generally will be posted if they are on-topic and not abusive.
For more information, please see our Comments FAQ