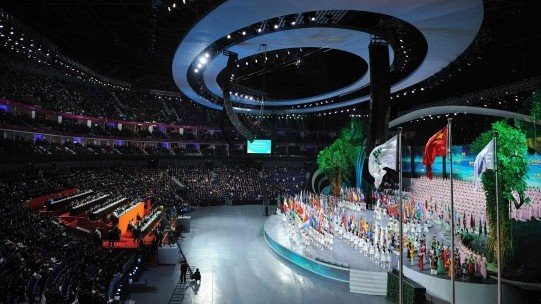 ---
SHANGHAI:


Fireworks illuminated the Shanghai skyline as China kicked off the six-month World Expo on Friday, with a lavish opening gala attended by many world leaders.

Still basking in the glow of its successful staging of the 2008 Beijing Olympics, China is treating the Expo as an equally important showcase for its growing political and economic clout. From the US to North Korea, a total of 189 countries will take part in the six-month display of ideas, culture and technology expected to attract at least 70 million visitors – the vast majority of them Chinese.

"Expo 2010 Shanghai is now open!" Chinese President Hu Jintao declared, after the national anthem rang out in the Expo cultural centre and the flags of all participating countries were paraded through the giant shell-shaped hall. The gala – planned by the team behind the opening and closing ceremonies for the Vancouver Winter Olympics – was a departure from more lowkey world expos in the past, with an all-star line-up. Hong Kong action film star Jackie Chan serenaded thousands of guests to open the event. Italian pop tenor superstar Andrea Bocelli belted out the aria "Nessun Dorma" from Puccini's opera "Turandot".

China, however, in all its glory did not forget the trauma of the earthquake that killed over 2,200 people two weeks ago. In a sombre moment, two children orphaned by the massive earthquake appeared onstage in traditional Tibetan dress. Chinese pianist Lang Lang and the Soweto Gospel Choir from South Africa also performed before leaders including Presidents Nicolas Sarkozy of France and Lee Myung-Bak of South Korea were ushered out to the banks of the Huangpu River.

A rainbow of fireworks, searchlights and lasers bathed a 3.5-kilometre (two-mile) stretch of Shanghai's riverfront in colourful light. Six thousand glowing LED balls showing images of shimmering fish were released in the water moments before small boats flying the flags of countries participating in the expo paraded downriver. For the finale, fountains, fireworks and lasers all fired simultaneously to excerpts from Ludwig van Beethoven's 'Ode to Joy'.

Once expo's gates open to visitors on Saturday, countries and companies will vie to outdo each other in presenting the best they have to offer the world – with a particular eye on China's market of 1.3 billion people. Denmark has made a splash by bringing its 'Little Mermaid' statue out of Copenhagen for the first time, France has impressionist paintings and Rodin sculptures, while Italy is showing works by Renaissance master Caravaggio.

India is bringing a cast of Bollywood stars and Canada's pavilion will bear the imaginative touches of contemporary circus troupe Cirque du Soleil. Past expos are remembered for leaving architectural landmarks such as the Eiffel Tower in Paris and the Space Needle in Seattle, and introducing the television and electric lighting to a mass audience. In Shanghai, the spotlight will be on the cutting-edge design of the national pavilions at the 5.3-square-kilometre site.

Highlights include China's red inverted pyramid, Britain's dandelion-like 'Seed Cathedral', Spain's 'Big Basket' made of 8,500 wicker panels and Switzerland's three-story-high "meadow" – complete with chair lift. China has bolstered security for the expo, deploying paramilitary police, randomly checking foreigners' identification and searching car and rail passengers entering and leaving the city. Ships will also be searched. Shanghai has spent 400 billion yuan (about 60 billion dollars) in direct and indirect investments in its preparations for the expo, according to state media.

This is more than the amount that was spent on the Beijing Olympics. Human rights groups have protested against the silencing of dissidents ahead of the event, and the apparent denial of accreditation to journalists from a Hong Kong-based newspaper known for its strong prodemocracy stance.


COMMENTS
Comments are moderated and generally will be posted if they are on-topic and not abusive.
For more information, please see our Comments FAQ