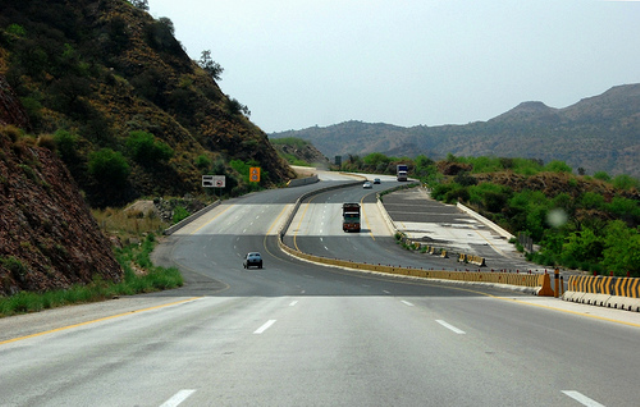 ---
A Chinese railway company said on Wednesday it has secured a $1.46 billion contract jointly with a Pakistani company to build the Karachi-Lahore motorway.

China Railway Construction Corporation said its unit, China Railway 20th Bureau Group Co, and Zahir Khan and Brothers Engineers and Constructors have won the bid to build a 1,152km section of the motorway project between the port city and Lahore, according to The Economic Times.

PM performs ground-breaking ceremony for Karachi-Lahore motorway

In March this year, Prime Minister Nawaz Sharif performed the ground-breaking ceremony for the Karachi-Lahore Motorway project. It was announced that in the first phase, the motorway will be constructed from Karachi to Hyderabad and will stretch to Lahore as part of the M-9 project. The motorway project is expected to cost Rs36 billion and will be completed in 30 months.

M4 motorway: PM inaugurates Gojra-Shorkot section

Last month, inaugurating the second section of Faisalabad-Multan M4 motorway project, PM Nawaz said motorways are valuable assets of Pakistan and they should be carefully maintained. "Six-lane Karachi-Lahore motorway is a mega project in the history of Pakistan which will dramatically reduce travelling cost," he added.

Pakistan calls China an "all-weather friend" and shares close business, diplomatic and security ties with its neighbour. Both countries signed an agreement on April 20 this year to commence work on China-Pakistan Economic Corridor (CPEC) development projects worth over $46 billion, which comes to roughly 20 per cent of Pakistan's annual GDP.

ECNEC approves construction of 387 km leg of Karachi-Lahore motorway

The corridor aims to connect Gwadar port in Balochistan to China's Xinjiang region via a network of highways, railways and pipelines spread over 3,000km. Work on several sections has already started but the entire project is expected to take several years to complete.

This article originally appeared on The Economic Times.
COMMENTS (20)
Comments are moderated and generally will be posted if they are on-topic and not abusive.
For more information, please see our Comments FAQ