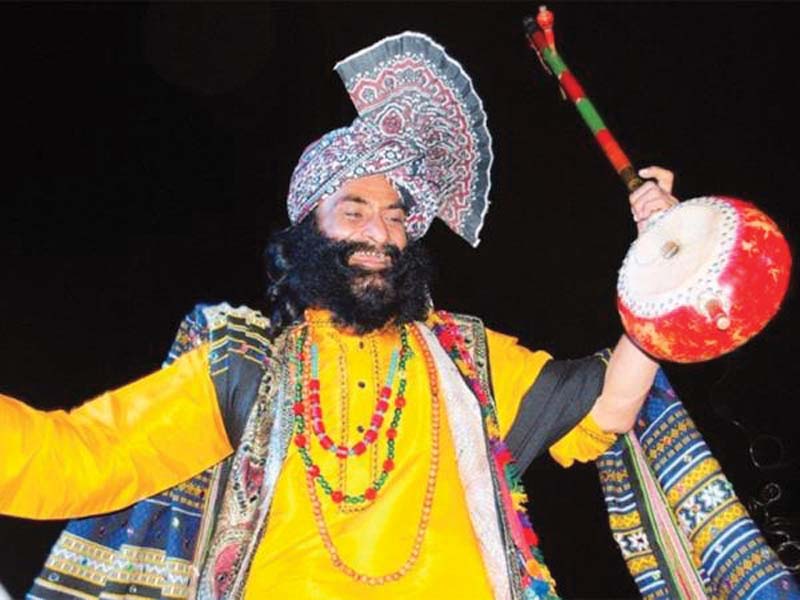 ---
ISLAMABAD:



He performs sufi kalaam with absolute passion while donning a colourful ethnic outfit. Belonging to a family of folk musicians who hold fondness for poetry and devotional music, Wahid Allan Faqir performs on the famous one string instrument popularly known as Kingh. He is inspired by legendary folk singer Allan Faqir. Wahid follows Allan to the extent of using his last name, although he has never been his disciple.




He recently performed at Sufi Festival in Jaipur and will be performing at the South by Southwest festival in America in 2016. Fluent in Urdu, Siraiki, Punjabi and Sindhi, Wahid shares, "People speak all these languages in my hometown of Rahim Yar Khan. That is how I started speaking all these languages and learned to sing in them."

In an attempt to expand his singing career and seek more opportunities, Wahid travelled to Karachi where he performed at Sachal Sarmast mela and Shahbaz Qalandar festival. "I got a lot of appreciation in Karachi but I finally moved to Islamabad in 2002 and was hired by Lok Virsa where I perform with my band". His band includes his son and two harmonium players.

Musicians gear up for SXSW showdown




Living the life of a dervish with a desire to spread peace and love, Wahid has previously faced troubles from violent parties but considers following his passion as the best way to lead life. "We all have only one life and a sufi needs to make the most out of it. You do encounter pain on this path but that pain is a prerequisite to a more meaningful life."

His performance at the Jaipur Film Festival was one example of the challenges Wahid experienced as a musician. "Some opposing parties posed a threat to Pak-India cultural exchange at the festival and I was advised by organisers including Indian actor Om Puri to cancel my performance for the sake of my safety," he says. "I told him that both the Quran and the Geeta say that death is inevitable, so even if I get killed it wouldn't matter because I was there to spread the message of peace, love and tolerance and portray the reality of my country."

Om Puri was impressed by these words and told Wahid to go ahead with his performance. "Ultimately, my performance was widely appreciated by the Indian audience and I am glad that I went ahead with it."

Folk-modern fusion: Khumariyaan stirs crowd with new track

He has a pretty simple method of tackling such unwanted situations and the remedy is in synch with his way of life. "If I meet a thief I would sing a kalaam that conveys a message of self-awareness and self-consciousness in an attempt to get him on the right path," says Wahid.

At the South by Southwest tour, Wahid plans on connecting with the American audience and spreading the message of peace and love.  Over the years, the number of Pakistani musicians performing at the event in Austin, Texas, US has only increased and the response they have received has been overwhelmingly appreciative. Apart from Wahid, NGO Foundation of Arts and Culture and Education (Face) has also roped in Imran Aziz Mian Qawwal, Mai Nimani, and Overload to tell the SXSW audiences what Pakistani music is all about.

Published in The Express Tribune, December 7th,  2015.

Like Life & Style on Facebook, follow @ETLifeandStyle on Twitter for the latest in fashion, gossip and entertainment.