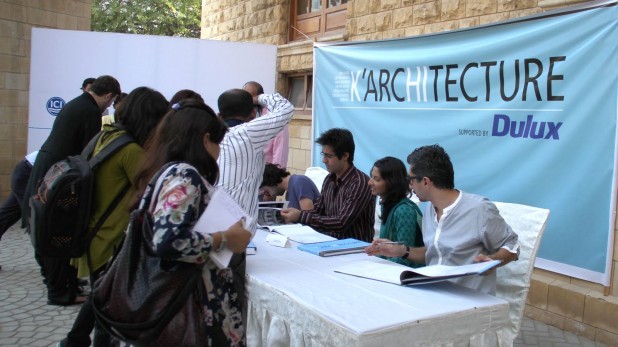 ---
In the face of rapidly changing urban landscapes, the value of the archive becomes non-negotiable. We are the sum of what our historians, artists and writers tell us we were. Without a record it becomes next to impossible to determine how future generations will perceive us. Awareness of this has been growing with the work of The Citizen's Archive Project as a case-in-point. In the metropolis of Karachi, negligence in the care of structures that hold historical significance is a threat to our collective memory. At any given time, there is a danger of buildings and spaces that we have come to know and recognise being destroyed either through neglect or active aggression.

In this regard, one cannot but help recall artist Asim Butt's passionate campaign to save the old Hotel Metropole. K'architecture, an exhibition of photographic works by seven artists, gives the love back to Karachi. The prolific and prodigious Tapu Javeri has memorialised in sepia, the rococo balconies of colonial buildings from MA Jinnah Road, Kharadar, Jodia Bazaar, Burns Road and Khori Garden, which whether we like it or not, are part of our history. In opting for simple framing of his subjects, he has chosen to allow them to speak for themselves.

Photographed in his inimitable chiaroscuro is Arif Mehmood's record of Soldier Bazaar, so named for once being a hotspot for British soldiers. In his symphony of lights and darks, the language of melancholy and nostalgia is spoken. Amean J's contemporary take on the mausoleum of the Quaid is clean, sharp and in colour. His titles, Unity, Faith and Discipline, speak of the three tenets as reflected in different aspects of this white marble structure. Employing symbolic language, Izdeyar Setna presents decaying Parsi settlements in colour.

Choosing black and white, Farzad Bagheri has photographed the interiors of the homes of contemporary architects, the creators of our structures today. In so doing Bagheri gives us a unique insight into what our future city could potentially be. From the look of these interiors, the future is green, airy and bright. Farah Mahbub, too, pays tribute to colonial architecture and Fareena Chanda's work illuminates the lack of maintenance of key buildings in Karachi, once magnificent, now in a state of disrepair; mere receptacles for the rubbish of the city. The group show will remain open till April 28 at the Indus Valley School of Art and Architecture.

The entire project has been collated into a sizeable coffee table book of photo essays, an artifact to have and hold for posterity, edited by Arshad Faruqui and Amean J with text by: Habib Fida Ali, Samina Ibrahim, Farid Alvie, Moyena A Niazi, Sheeraz Y Wania, and Arif Hasan. This hard-bound collection is produced with an eye to finish and detail. Each photographer was given carte-blanche in their choice of subject and in the decision to shoot in black and white or colour. The end result is an amalgam of our past, present and future both in visual terms and thought-provoking prose.
COMMENTS (1)
Comments are moderated and generally will be posted if they are on-topic and not abusive.
For more information, please see our Comments FAQ