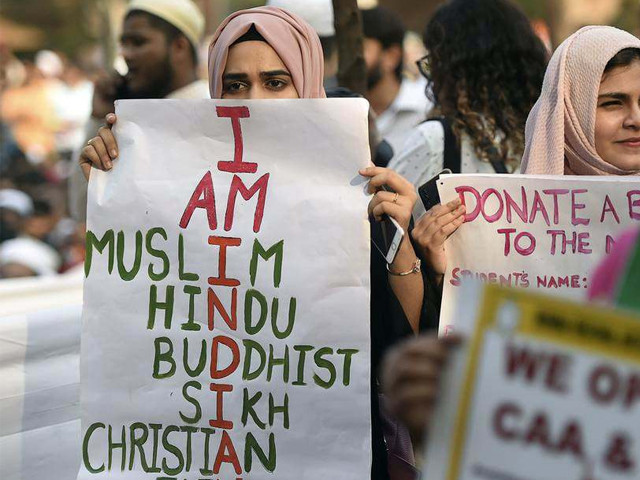 ---
Are we turning a blind eye to the plight of religious minorities?
Why does every successive government find itself powerless to address the minorities' issues?
---
The recent vandalism of the Ahmadi mosque in Karachi by extremists provides us with a moment to pause and ponder where we are headed as a nation. Woefully, instead of improving the social and religious landscape for our minorities, the situation for them in Pakistan is worsening with each passing day. They are made into outcasts and pariahs. Not only is this bitter and antagonistic treatment only reserved for the Ahmadis, but the Hindu community also has been at the receiving end of persecution lately.
The gruesome murder of a 44-year-old Hindu woman in Daya Bheel terrified the Hindus in Sindh and forced them to revisit the memories of their former persecution. Moreover, the forced marriages and conversion of young Hindu girls has become a norm in Sindh.
This doesn't mean that other religious minorities feel safe and protected in Pakistan, evidenced by the decades-long persecution of the Shia community.
Some questions need to be asked at this critical juncture: aren't minorities in Pakistan also citizens possessing equal rights as others to live in peace? Is the country's Constitution allowing fanatics to make lives miserable of its minorities or brutally end their lives? If the Constitution safeguards their lives and allows them their rights, why are they still deprived? And finally, why does every successive government, which boasts of having come into power through a democratic process, find itself powerless to address the minorities' issues? Has every government in Pakistan's history been complicit by being silent spectators?
Moreover, belonging to a different religion or from a different sect doesn't give one the right or power to persecute anyone or demolish their place of worship. Instead, cultural and religious diversity is necessary to enhance society, which we have yet to learn.
Perhaps one fears that such a prejudicial and extremist mindset in the end would lead to something very ugly where everyone would be killing each other on the pretext of religious differences. It indeed, though gradually, is leading towards such an eventuality. However, the government and other concerned bodies that should have been woken up long ago by the alarming increase in violence against minorities, seem uninterested and are giving the unravelling hideous reality a blind eye and a deaf ear – deliberately.
Unfortunately, in Pakistan, minorities have always been threatened by major religious groups, often resulting in the mass killing of the less powerful religious community. It is even more disappointing to know that such mass killings are instigated and engineered, in most cases, by the leaders of powerful religious communities or groups who should rather be restraining their followers by preaching the gospel of love and tolerance than letting them continue killing and rampaging those who are holding different religious beliefs and are weak in number.
One might ask where has all this toxicity comes from? To trace the origin of the ugly reality we are living is very easy, one that stems from the policies set by the Pakistani politicians, military, and religious leaders for decades, bringing us to this undesirable moment in history which we cannot escape now.
Moreover, the issue is compounded further by the presence of extremists in large numbers on social media platforms who constantly spew hatred against minorities, which then leads to real-life incidents.
Conclusively, an immediate attention is required to contain this growing hatred against the religious minorities before the streets are littered with the corpses of the innocent minorities – an outcome of genocide. If the political and military leaderships are busy elsewhere, the religious leaders need to come forward and prevent their followers from hacking one another to death.