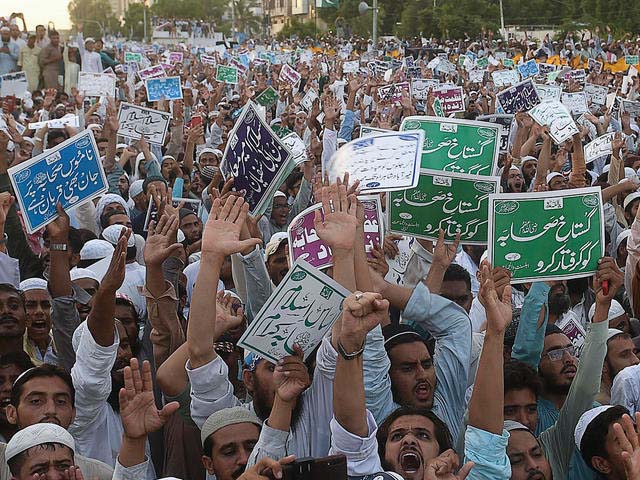 ---
Why are anti-Shia sentiments on the rise in Pakistan?
Elements within the State are exacerbating the differences between Sunnis and Shias to further a political vendetta
---
Between 2001 and 2018, approximately 4847 Shias were killed in incidents of sectarian violence. Some databases estimate over 10,000 innocent lives were lost during this time. The statistics are evidence of the blatant disregard for Shia lives, the complacency of State institutions and their failure to protect minorities. However, these statistics are not reflective of the (micro) aggressions that a Shia living in Pakistan has to live through.
Since the beginning of Muharram 2020 (1441 AH), there has been a stark increase in hostility towards the Shiite community. Among incidents that have been making the rounds on social media, there are: Shias being forced to profess their respect for certain personalities – equivalent to the 'Jai Shri Raam' chants by Hindu Nationalists – which is not consistent with their history, discrimination in the workplace because of their faith, harassment in public places while transiting to/from a majlis, mob raids because they displayed their controversial beliefs on social media, and an FIR being lodged against a three-year-old boy for hosting a majlis.
The list does not include the more severe offences, such as the murder of Qaiser Imran in Kohat, the attack on a procession in Okara, the desecration of an Imambargah in Lines Area, or the detainment of over a dozen Shia ulema. A series of events are blamed as the root cause of this hostility. One being the practice of Tabbarra, during which Shias oppose those who caused harm or were enemies of the Prophet (PBUH) and his family – a core belief of their faith that they have practiced throughout the history of Islam. The second one being the practice of reciting Ziarat-e-Ashura, a Shia prayer to the fourth Imam, Husain Ibn Ali (A.S) and the martyrs of the Battle of Karbala which is attributed to the fifth Imam, Muhammad Al-Baqar (A.S). The ziarat also includes the practice of Tabbarra, whereupon the fifth Imam and all Shias send God's curse on Yazid, Muawiyah and Abu-Sufyan.
As logic dictates, the recitation of this ziarat dates back to approximately 1300 years ago. Millions of Shias across the globe recite it each year on the 10th of Muharram, yet this year its recitation was a focal point of conflict. The Human Rights Commission Pakistan took notice of the 40 blasphemy accusations that were hurled in the past 30 days, with most of the accused belonging to the Shia community, and a few to the Christian and Ahmadiyya community. Moreover, Punjab Police's crackdown on hate-speech against the Prophet (PBUH), his family and his companions resulted in many prominent Shia ulema being detained.
Where the State failed
It is clear that elements within the State are exacerbating the differences that already existed between Sunnis and Shias to further a political vendetta. While addressing the hate-mongers on religious grounds, it must be noted that the utmost respect of the companions of the Prophet (PBUH) was never a core part of either sect's belief. Had it been so, God would not have revealed Surah Munafiqun. The topic has only been made a point of conflict in contemporary history for political reasons.
Pakistan's geopolitical position has made it home to many proxy wars, specially the biggest one in the Middle East, Saudi Arabia and Iran. The two countries have exploited Pakistan's own national security challenges against Afghanistan and India to create a foothold. Pakistan has political objectives aligned with the Kingdom's ideology, considering its economic dependence on them. Arguably, as a security State, the country's establishment has had the primary role in dictating its foreign and domestic policy. In order to deal with its external security threats, the establishment nurtured and strategically utilised these Wahhabist and Salafist organisations. However, international pressure to disband such organisations led the establishment to take some sort of an action against them. For instance, Sipah-e-Sahaba Pakistan was banned in 2002 by Pervez Musharraf under the Anti-Terrorism Act of 1997 and was banned again in 2012. However, it continues to operate under a different name, Ahl-e-Sunnat-Wal-Jamaat (ASWJ), led by Aurangzeb Farooqui and Ahmed Ludhianvi.
Their organisation enjoys liberties that barely any terrorist outfits in the world do, with freedom to assemble, engage in hate speech, incite violence, run for public office and even become a Member of Parliament. Recent events have shown that the National Action Plan is nothing but a tool that the establishment uses as it wishes, to perhaps curb political opponents and rogue elements. The plan, or any piece of law for that matter, has barely been used to protect the citizens of Pakistan. The Tahaffuz-e-Bunyaad-e-Islam bill which was being pushed by members of the Punjab assembly to become law was devised by a panel of All-Sunni parliamentarians, including Muavia Azam, a member of ASWJ. Shortly after compiling the entire bill, Muavia Azam took a copy of it to his father's grave. His father, Azam Tariq, was a leader of the banned SSP, accused of over a dozen murders and jailed for his involvement in terrorist activities. To imagine that in Naya Pakistan, policymaking is inspired by the ideology of terrorists is not preposterous. Considering ASWJ released a list of 70 PTI candidates that it backs in 2018, but no one saw the red flags then.
Where the Sunni allies failed
A manifestation of the State's implicit support for religio-political organisations with a hate-spewing agenda was the recent 'Azmat-e-Sahaba' March carried out in Karachi. From the get-go, the March's purpose was to intimidate the religious minorities and reiterate Sunni supremacy in Pakistan. The march was hosted at the same location as the Markazi Juloos of Ashura, an annual procession. Its hosting parties included major parties such as Jamiat-e-Ulema Islam but also right-wing parties such as ASWJ and Tehreek-e-Labbaik Pakistan. Their widespread propaganda had helped build a narrative where moderate Sunnis previously disaffected by religio-politics also supported this cause. They are unaware of the motivations and the causes of these protests and have failed to educate themselves about the Shia view of Islam. As mentioned earlier, there has not been a change in the beliefs that Shias hold or practice, organisations have only used their disaffected class to lead them astray and fuel sectarian hatred in the name of religion. There has been a deafening silence by the elite moderate Sunnis of our country over the increase in prejudice against Shias. Many enjoy privileges that they have previously used to redirect attention towards global issues, such as Black Lives Matter, but often tend to ignore the persecution of ethnic or religious minorities back home. As a Shia, I have spent every Muharram living in this country answering the countless questions regarding my faith and debunking myths regarding our practices. Yet those who vehemently oppose our beliefs and would go to the lengths of ostracising and persecuting our community on the basis of their understanding of Islam are either bigoted or ignorant. They have barely spent any time understanding the Shia faith.
Where the Shias failed
This is not to say Sunnis are not allowed to have a difference in belief, but instead they should not expect Shias to uphold their ideals. Perhaps, this is the first mistake that the majority of Shia ulema have made. Arguing that we must forget all our differences and become united as one Muslim Ummah has led us where we are today: a State which does not allow its sectarian minorities to follow its beliefs freely and assimilate into the mainstream Sunni faith. The first step should always have been tolerance and coexistence. Our Sunni citizens do not have to accept us despite of our beliefs but in spite of them. Shias should not have to mellow their stance on controversial topics because it hurts the sentiments of the status-quo, especially when there is no religious or legal basis for their outrage. Once the majoritarian sect has learned to coexist with the minorities, the Ummah can proceed towards being united. Secondly, Shias have played a significant role in the exclusion of Ahmadis in the name of religion. Although their rhetoric, more often than not, has been politically charged, they only paved the way for the Sunni supremacists to come for them next. For instance, the first public figure of the opposition to condemn Atif Mian's inclusion in the Economic Advisory Council was the Pakistan People's Party's Shehla Raza (she has since apologised for the incident and issued a clarification). Many ulema at our Majalis continue to maintain a hostile tone towards Ahmadis in Pakistan.
Additionally, for the community to be truly strengthened, it needs to be more inclusive and welcoming of not only religious and ethnic minorities, but also for all genders. Our religion is indeed the fruit that Hazrat Zainab (A.S) bore in Yazid's courtyard, alone as a captive. Then why have Shia ulema and leaders chosen to divide us further?
Growing up in the Islamic Republic of Pakistan, I have learned how to deal with bigots, understand who is worth educating, and when to remain silent. However, I have always considered this country my own. I, along with my entire family, have lived our lives as responsible citizens. If I go abroad, I miss the Azadaari that we have practiced over the years back home. Then why is it that I have to now prove my Pakistaniyat to Sunni supremacists by professing to their version of Islam?
The same place that I have called my house now suffocates me. It has forced a law-abiding citizen whose family has worked in different sectors for the betterment of this nation to consider seeking asylum elsewhere. How many dead bodies must we shoulder before it is one of our own? Should we wait until it's one of our own before we decide to leave everything we know behind and journey to a foreign land? The issue is systemic and persistent in our institutions, but how come the masses continue to be indoctrinated by these false narratives? Is this the religion they have learned? Are we really going to sit quietly and enjoy our privilege while an innocent community is persecuted to fulfill a foreign agenda?
Our progress as a nation is dependent on investment in our people, for the better. Those in power are willing to provide the poor and weak with a gun, but not the pen. For they know, once we have the pen, we will know what is right. We must pick up the pen, before there is no one else to write for.